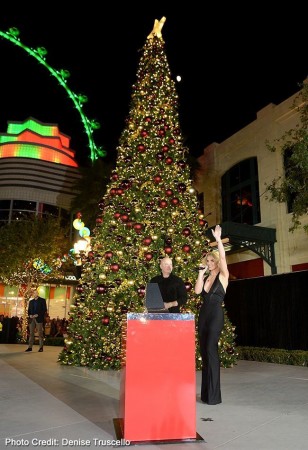 The LINQ is starting to look a lot like Christmas! Fans from around the globe collected in the LINQ Promenade on Saturday, November 21 to welcome worldwide celebrity Britney Spears as she formally began the holidays with a special tree lighting ceremony.
100s of visitors cheered as Britney took the stage the turn on a 30-feet Christmas tree, decked out in red and gold d?cor, together with 100s of dazzling white lights. The ceremony also featured a holiday choir performance from Las Vegas? Doral Academy as the Fern Adair Conservatory for that Arts got everyone else pumped up with a performance to Britney Spears? ?My Only Wish (This Season).? The evening wasn?t complete without a stop from Santa and the Elves who passed out gifts to participants.
Britney stopped by the LINQ Promenade for that tree lighting before heading to Planet Hollywood Resort & Casino, where she carried out her headlining residency show, ?Britney: Piece of Me.? Britney returns to the AXIS stage on December 27, and tickets are on sale now for shows through April 2016.
The LINQ Promenade welcomes the holidays with festivities through Christmas. The 25 Days of Celebration begins Tuesday, December 1, with every day offering a different way to celebrate. The celebration includes reduced tickets to the High Roller observation wheel, story time with Santa and a number of treats in the promenade stores and restaurants.
Winter Parq in the LINQ Promenade launches on Saturday, December 5 with a nightly holiday show which happens from 5-9 p.m. The show includes holiday artists and carolers who'll perform within the fountain part of the promenade towards the top of each hour. Snow will also fall every half an hour throughout this time. On Friday, December 11 BMX riders join the holiday show from 8-11 p.m. to do tricks within the fountain area. Visitors ought to be looking for a sexy Santa and Mrs. Claus who'll roam the region, appearing for photos with site visitors.
Related Links

Britney Spears "Piece Of Me" Las Vegas
Book Now: The Linq Hotel
Book Now: Planet Hollywood Resort & Casino
The Linq