Loyal Hard Rock Hotel & Casino Backstage Pass member, Davion Clarke, hit the big bucks on the property?s ?$100,000 Hallo-Spin Hallo-Win Giveaway? promotion on Friday, October 9 around 6 p.m. The Halloween-themed promotion involves landing on the Hard Rock Hotel & Casino logoed slot three times consecutively, that is 1 from 8,000 chance around the mega-sized wheel.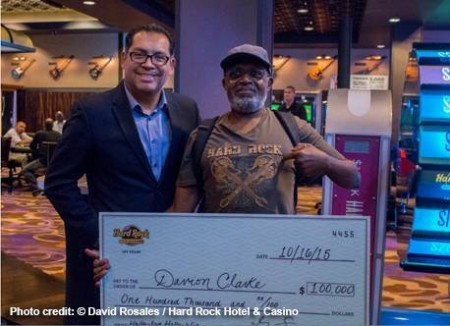 Originally from Arizona, Clarke was ?completely shocked? upon hitting the jackpot, noting ?this doesn?t seem to happen often, and I?m surprised it?s happening to me.? Clarke gambles exclusively at Hard Rock Hotel & Casino and plans on helping out his kids with his winnings. ?I have a son finishing college and a daughter to help support,? Clarke said. Clarke also explained he will use his part of winnings towards a nice vacation in the West Indies next year.
To win a spot to spin the wheel, players have numerous options including signing up for the Backstage Pass program, daily Backstage Pass swipes, table and slot machine play. The contest concluded October 30.
Related Links: