Hard Rock Cafe Las Vegas at Hard Rock Hotel will commemorate twenty five years in Vegas having a ten-day celebration from Friday, October 2 through Sunday, October 11, 2015. Festivities include free live music shows, throwback menu products, drink and food special offers, interactive occasions and much more!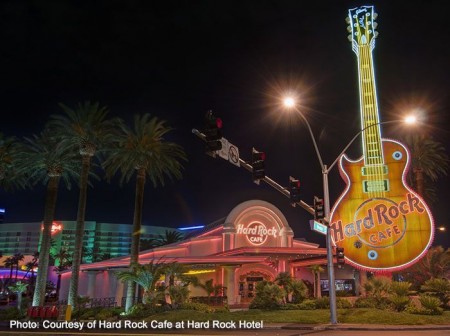 ?Just about everyone has a fond memory or a great story about an experience they had at Hard Rock. There?s so much history here, from the staff and the evolving menu through the years, to the artists who have graced the stage or hung out and enjoyed a drink or a meal,? said Darcy Byers, General Manager, Hard Rock Cafe Las Vegas at Hard Rock Hotel. ?While putting this celebration together, it?s been fun taking a trip down memory lane over the years.?
Co-sponsored by One Nevada Credit Union and Pabst Blue Ribbon, popular features of the 25th anniversary celebration include a free concert featuring Missing Persons and also the Vegas Rock AllStars on Saturday, October 10, along with a special celebrity brunch with Blas Elias (of Slaughter, Blue Man Group) on Sunday, October 11. All 25th anniversary shows are free admission and available to any age. Visitors can take advantage of happy hour special offers throughout all live music occasions and local people with valid ID will get 15% off their check.
Take a bit of history home with a visit to the Cafe?s Rock Shop for a few of the special, limited-edition merchandise including a 25th anniversary commemorative pin, glasses, hat or T-shirt.
The complete schedule of events for the ten-day celebration at Hard Rock Cafe Las Vegas at Hard Rock Hotel includes:
Friday, Oct. 2 – Hard Rock Cafe Car Show presented by Hellkat Productions ? guests can check out cool classic cars in the parking lot from 6 ? 9 p.m.; a raffle will be held benefitting Making Strides for Breast Cancer.
Sunday, Oct. 4 – Sunday, Oct. 11 – Enjoy a taste of Hard Rock?s past with three of the most popular menu items – with prices to match – from 1990 for the anniversary celebration week:
? Rita?s Pot Roast ? Juicy pot roast in brown gravy served with a vegetable medley of carrots, onions, celery, mushrooms and mashed potatoes
? Chinese Chicken Salad ? Crisp romaine lettuce, chopped red peppers, mandarin oranges, water chestnuts, carrots, broccoli and snow peas, tossed with an Asian vinaigrette and topped with fried Wontons
? H.R.C. Famous Watermelon Ribs ? Texas-style ribs basted in Hard Rock?s special watermelon BBQ sauce, grilled and served with fries, BBQ beans and coleslaw
Monday, Oct. 5 – Gibson Guitar Acoustic Asylum ? enjoy the sounds of some of the city?s best local bands from 8 ? 11 p.m.
Wednesday, Oct. 7 – Wine & Canvas event to benefit Making Strides of Las Vegas ? guests can rock their inner Picasso and create a rock n? roll inspired painting while socializing with friends
? Guests 21 and over can enjoy bottomless wine for $25.
? A raffle will be held with proceeds benefitting Making Strides Against Breast Cancer.
? To register, visit http://www.wineandcanvas.com/las-vegas-nv.html.
Thursday, Oct. 8 – #ThrowbackThursday – Take it back to the old school with Like Totally performing rock hits from the ?80s from 8 ? 11 p.m.
Saturday, Oct. 10 – 25th Anniversary Celebration Concert will feature Missing Persons and The Vegas Rock AllStars, beginning at 9 p.m., featuring Scot Coogan (Ace Frehley and Brides of Destruction), Brent Muscat (Faster Pussycat), Keith Robert (Dee Snider), Sean Koos (Joan Jett & the Blackhearts) and Rob Cournoyer (Soul Asylum and Raging Slab) with special guests Jeff Young (Megadeth) and Sherri, Nadir D'Priest (London) and Blas Elias (Slaughter).
Sunday, Oct. 11 – Celebrity Brunch with a Beat with Blas Elias from 10 a.m. ? 2 p.m.
? Tickets are $25 per person.
? Enjoy bottomless mimosas and bloody marys for just $25 more.
Related Links:
Book Now: Hard Rock Hotel & Casino
Hard Rock Cafe American Restaurant