On Labor Day 2015, the only real cherub statue to be retrieved from the "Ship of Dreams" is going to be taken off its temporary display at Titanic: The Artifact Exhibition inside Luxor Hotel and Casino. Introduced for a restricted-time engagement, the bronze statue made its Vegas debut in February 2015 and it is the most recent artifact to become set up in nearly 2 years. Initially scheduled to be removed in March, the cherub's engagement was extended because of popular demand. Site visitors who purchase general admission tickets can get one further opportunity to begin to see the rare statue before its removal in the historic gallery.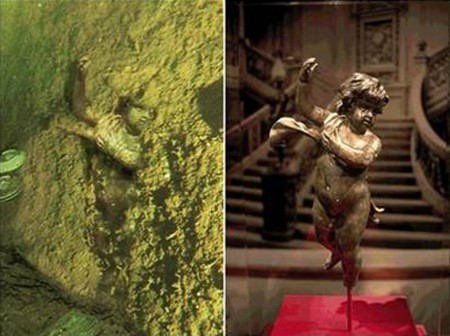 A well known decorative piece throughout that point period, cherubs are located through the White Star Liner with bigger figures situated within the Grand Staircase. Though its torch and left foot are missing, this specific cherub is believed to have been a light fixture around the aft staircase hooking up the Promenade Deck towards the C Deck. The statue spent decades within the deep Atlantic Ocean prior to being retrieved during the R.M.S. Titanic Inc.'s 1987 expedition. Molded drapery and laces and ribbons are still visible on the body and serve as an indication of the items still remaining at the bottom of the ocean.
Titanic: The Artifact Exhibition is open daily from 10 a.m. ? 10 p.m. with the last admission at 9 p.m.
Related Links: