Las Vegas' top buffet, Bacchanal Buffet at Caesars Palace, is presenting visitors with many more possibilities to raise their buffet experience with the addition of whole market-fresh fish, lobster and caviar to the more than 500 dish deep menu.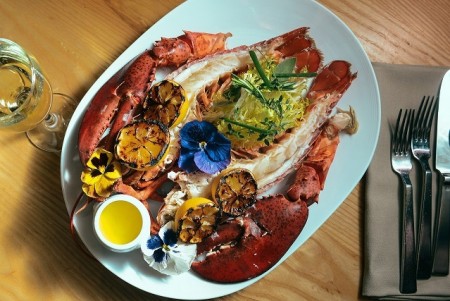 Whole fish options include Norwegian mackerel for $21.19 per pound, New Zealand Tai Snapper for $26.12 per pound or Golden Pompano for $22.19 per pound and could be grilled or fried. Grilled fish are full of fresh lemon and aromatic herbs, seasoned with fleur de sel and fresh cracked black peppercorn. Visitors searching for something exotic can choose to have their seafood fried with tamari soy and yuzu sauce and capped with ginger root and scallion.
For visitors searching to see something decadent, whole poached lobster can be bought for an additional $150. Your food includes immediate seating and the option of a glass of Veuve Clicquot Ponsardin Ros??or Veuve Clicquot Ponsardin Brut.
Sasanian Imperial Caviar may also be bought at Bacchanal for an additional $150. Visitors searching for an extravagant luxurious experience can buy the Caviar Dreams package, including Sasanian Imperial Caviar?and accoutrements, one bottle of Dom Perignon and immediate seating. The package is listed at $500 for two people or $650 for 4 people.
Visitors may also purchase all seafood options tableside whenever they choose to enhance their Bacchanal Buffet experience after being seated.
Bacchanal Buffet also offers a number of libations. "All You Care to Drink" packages which include limitless draft beer, house wine or Wycliff Champagne Mimosas are available all day long for $22 and include a Bacchanal souvenir glass. Visitors may also decide to purchase individual brews and wines through the glass or bottle beginning at $7. Niche cocktails can also be found for individuals seeking some thing potent. Visitors can buy an array of Mojitos, Sangrias, Frozen Margaritas, Cosmopolitans, and Spiked Lemonades for $10 per glass or $30 per pitcher. Visitors searching for a far more savory option can pick to buy a glass or pitcher of the Bacchanal Bloody Mary for $10 or $30. Visitors can personalize their mixtures in the Bloody Mary station situated near the American station.
Since opening in September 2012, Bacchanal Buffet has set a brand new standard for Vegas buffets and is constantly redefining the buffet experience by providing greater than 500 dishes made-fresh daily with a group of specialized chefs who oversee the preparation from the food in nine open interactive kitchen areas. Bacchanal Buffet is constantly on the earn numerous honors and accolades, including being chosen #1 Buffet in Vegas by USA Today and many lately, Readers' Choice Best Buffet by Las Vegas Weekly. Serving a fantastic 3,000 – 3,500 visitors daily, Bacchanal Buffet has welcomed greater than 2 million site visitors, without any indications of slowing down.
Related Links:
Book Now: Caesars Palace Hotel
Forum Shops
Bacchanal Buffet Restaurant