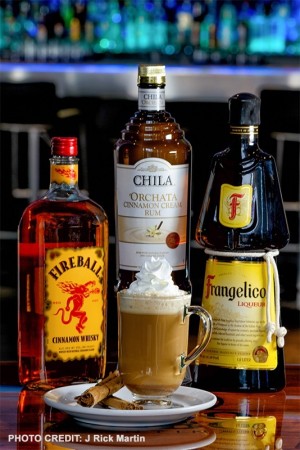 Cabo Wabo Cantina, located inside Miracle Mile Shops at Planet Hollywood Resort & Casino, will welcome the holiday season with a specialty 'Chai Me Up, Santa' cocktail, available Monday, December 1 – Wednesday, December 31.
The holly jolly cocktail, priced at $12, is a mix of hot chai, Chila 'Orchata cinnamon cream rum, Frangelico hazelnut liqueur and Fireball cinnamon whisky, topped with whipped cream and sprinkled with cinnamon.
Cabo Wabo guests may complement the celebratory seasonal drink with the cantina's delicious selection of Cabo San Lucas-inspired dishes, including the Cilantro Jalape?o Chicken, a grilled chicken breast prepared with jalape?o, onion, cilantro, pepper-jack cheese and jalape?o ranch, served over Mexican squash, roasted corn, tomatoes and poblano peppers; and Sammy's Tequila Shrimp, flavorful Baja shrimp saut?ed in garlic and Cabo Wabo tequila-lime sauce, and served with dirty rice.
About Cabo Wabo Cantina:
Sammy Hagar's hard rockin' dining and live music venue combines the laid-back beach-town vibe of Cabo San Lucas, Mexico, with the excitement of the Las Vegas Strip. Blending coastal Mexican and Tex Mex cuisine, the menu offers a tantalizing mix of flavorful food, killer margaritas and an awesome venue where it is never uncommon to catch the Red Rocker himself jamming out with a live set on stage.
Related Links:
Book Now and Save: Planet Hollywood Resort & Casino
Cabo Wabo Cantina
Miracle Mile Shops