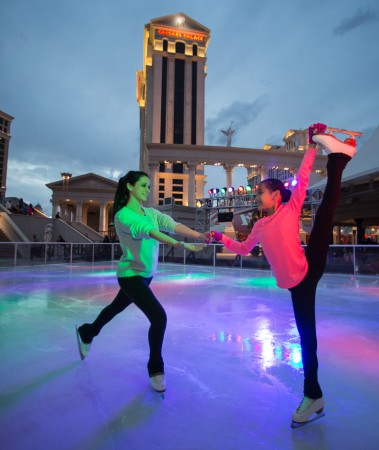 Caesars Palace Las Vegas will turn the center of the Las Vegas Strip into an ice skaters' paradise once more with the installation of a real ice skating rink this holiday season. Visitors will have the ability to ice skate over the legendary Caesars Palace fountain, the Strip-facing promenade that overlooks Las Vegas Boulevard November 21 through January 11.
A traditional real ice skating rink is featured at Caesars Chalet infused with entertainment and special activities that embrace the holidays. Visitors can enjoy warm indulgent seasonal food and beverage options from Moet and Patron. Festive funnel cakes featuring delightful flavors such as Caramel Apple, Red Velvet and the traditional favorite dusted with powdered sugar will be available. Signature cocktails include: Miracle on the Blvd., Inner Elf, Naughty & Nice, Ugly Red Sweater and Red Roller. Bottle service with Adirondack seating is going to be available nightly.
For additional dining choices, visitors may also visit Serendipity 3 next to Caesars Chalet for sweet goodies such as the famous Frrrrozen Hot Chocolate and Colossal Brownie Sundae or enjoy savory dishes like The One & Only Las Vegas Strip Steak Sandwich or hands breaded chicken strips.
90-minute skating periods are available daily from 11 a.m. to 11:30 p.m. Skate rental fees are $5 per session; each 90-minute session is priced at $20 per person. This season visitors may also buy an extended pass and/or rent the whole rink for a private party or event.
Related Links: