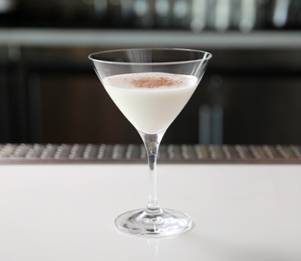 Located amidst the sparkling Fountains of Bellagio, Hyde Bellagio offers visitors a captivating indulgence with the development of Cioccolato Bianco, a brand new seasonal winter cocktail available for tasting on December 1. This decadent and rich drink conjures pictures of grandeur while having a flavor evocative of childhood delights.
Cioccolato Bianco ($18) – This sophisticated specialty cocktail, Cioccolato Bianco, which is Italian for white chocolate, features Godiva White Chocolate, Tuaca, chocolate bitters and is dusted with coco powder.
Additionally, Hyde also offers a complete menu of signature cocktails during lounge hours with options such as the Love Unit, Cucumber Watermelon Margarita and Burning Mango. For that ultimate winter chill, frozen liquid nitrogen cocktails are offered table-side for a theatrical smoke and ice display. Visitors may also experience a delectable choice of gourmet small plates ideal for sharing while enjoying the dancing fountains. Plates are offered nightly beginning at 5 p.m.
ABOUT HYDE BELLAGIO

Hyde Bellagio, the first nightlife venture in Las Vegas by famous hospitality leader sbe, ranks in the Top Ten of Nightclub & Bar Magazine's coveted Top 100 list. Boasting a seamless indoor/outside space, floor-to-ceiling windows as well as an expansive terrace overlooking Las Vegas' most-celebrated landmark, the Fountains of Bellagio, Hyde Bellagio offers a unique early-evening experience beginning at 5 p.m. The early evening experience spotlights the award-winning mixology program along with a menu of gourmet small plates. Well after sunset, Hyde Bellagio unfolds into Las Vegas' most popular nightlife destination with 40 VIP tables, an varied rotation of DJs, live performances and also the city's most exclusive clientele. Hyde Bellagio's lounge opens nightly 5 p.m. until late evening. The nightclub is open Tuesday, Friday and Saturday from 10:30 p.m. to late. Every Tuesday, Hyde honors its 'Lost Angels' insider night, delivering the unfiltered style and sounds of Los Angeles. Hyde offers live music and the unbridled sounds of local acoustic artists every Thursday from 10 p.m. – 1 a.m.
Related Links: