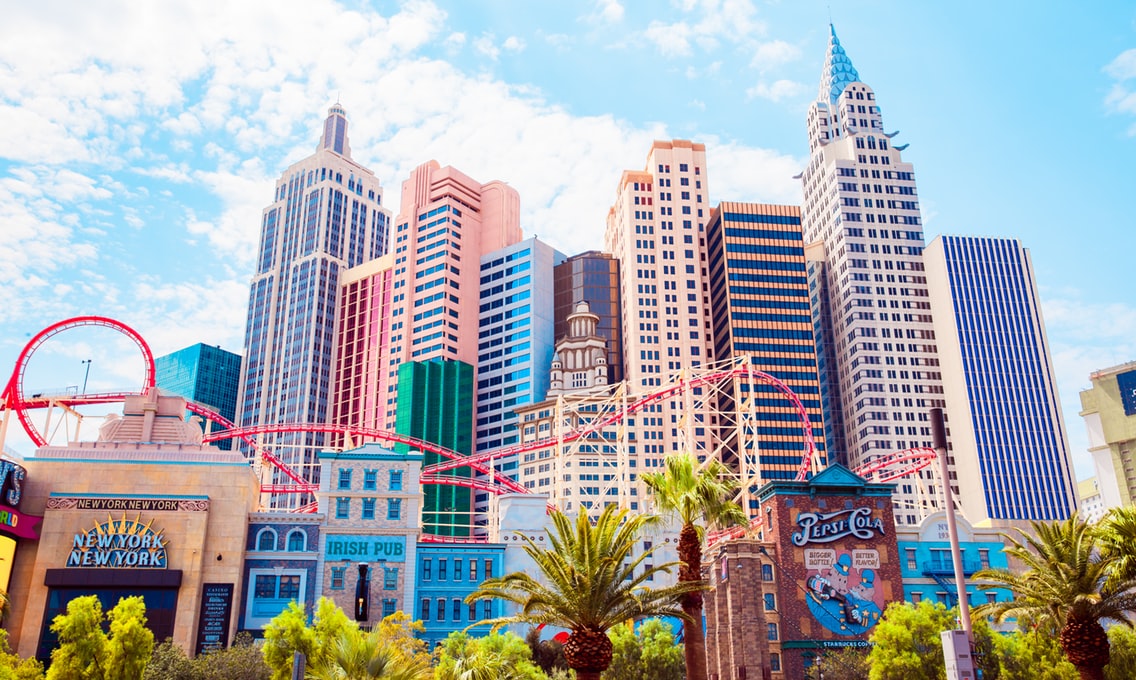 Las Vegas is most famous for its casinos and gaming, with some of the biggest casino resorts in the world located along the legendary Strip. It has been romanticized in books, movies, and songs for the best part of a century, making it a bucket list destination for people all over the world.
It is filled to the brim with entertainment, with A-list celebrities having residencies at some of the biggest resorts on the strip. It is often the scene of major boxing and UFC fights, and until recently maintained a monopoly over sports betting in the United States.
Vegas is also home to many culinary delights, from Michelin starred dining, to quirky themed restaurants like the Heart Attack Grill. Shoppers too have plenty to do in Las Vegas, with huge collections of boutique shops that cater for just about every desire.
Of course, it's the casinos that are the primary draw for Vegas, with millions of people coming every year to play slots, roulette and the many versions of poker, such as Texas Hold'em, where community cards are dealt face up. However, if you prefer your thrills to be more adrenaline-fueled, Las Vegas has still got plenty for you to do.
Stratosphere Tower
The Strat is a casino and hotel resort with some unique white knuckle attractions centered around the Stratosphere Tower.
The first of these is Big Shot, a vertical launch tower that launches up to 16 riders at a time 160 feet into the air, accelerating to 45mph in seconds. While vertical launch rides are not unique, with most major theme parks having one, the Big Shot is constructed on top of the 921 foot Stratosphere Tower, meaning riders are already very high up before the ride has even begun.
For riders that manage to keep their eyes open, the views over the Vegas skyline are breathtaking from the peak height of 1,081 feet.
The second option at Stratosphere Tower is Insanity. This is a mechanical arm ride that hangs 64 feet over the side of the tower. Riders are spun around 900 feet in the air, experiencing forces of up to three Gs.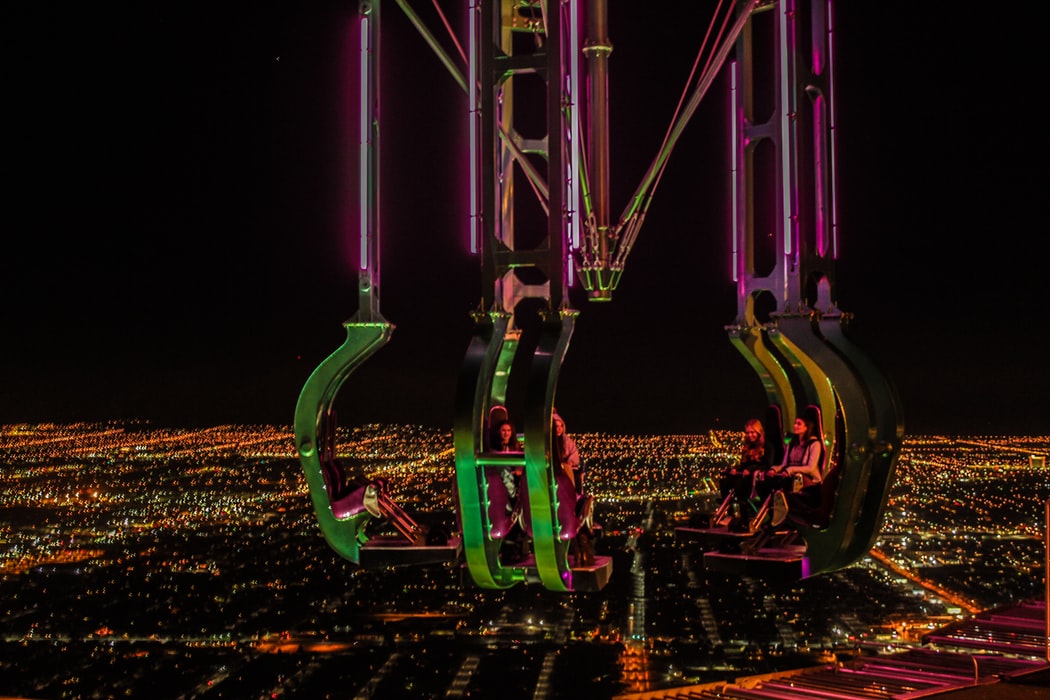 The next option is X-Scream, a rollercoaster with a difference. Riders are propelled over the edge of the tower, before being hung weightlessly over the edge for what feels like an eternity, before being pulled back for it to start all over again.
The final white knuckle attraction is best saved until last as it'll speed up your trip back down to the ground. SkyJump is exactly what its name suggests. Riders are attached to a harness at the top of the tower, before taking a leap over the edge. In a controlled free fall, you'll reach a speed of 40mph on your way down.
If you're planning a trip to Stratosphere Tower there is free parking at the hotel, and tickets can be purchased in advance from the hotel's website.
Canyon Blaster
Canyon Blaster is another Las Vegas rollercoaster, located at the Circus Circus Hotel and Casino. It is a coaster that will confuse all of your senses as you are bounced through a sharp double corkscrew, tight turns, and a double loop section. You'll reach high speeds as you fall down a steep drop, and you'll become disorientated through the ride's pitch black section.
Big Apple Coaster, New York-New York Hotel & Casino
Lasting almost three minutes, this coaster will propel you at speeds of nearly 70mph down its steepest drop of 144 feet. You'll be teased of the thrill that's to come as you slowly ascend up the 203 feet incline before you hurtle through corkscrews, loops, and more hills.
The Big Apple Coaster has a unique feature that changes the experience completely. Riders can opt to wear a virtual reality headset that blasts immersive 4k video and crisp sound right into their head, changing the ride completely. If you choose not to put on the headset, you can enjoy the views of the Vegas Strip, and the many New York themed statues and ornaments around the hotel.