HISTORY®, Nitro Circus and Caesars Palace have partnered for, "Evel Live," an unprecedented three hour live event airing on Sunday, July 8 at 8 p.m. ET / 5 p.m. PT on HISTORY®. "Evel Live" will see motorsports superstar Travis Pastrana pay tribute to Evel Knievel, the founding father of motorcycle stunts, and aim to the push the limits even farther than the American icon. Caesars Palace, world-famous home of memorable moments in both sport and entertainment and the site of Evel Knievel's legendary fountain jump 50 years ago, will host the grand finale jump, both for a national TV audience and a packed Las Vegas crowd.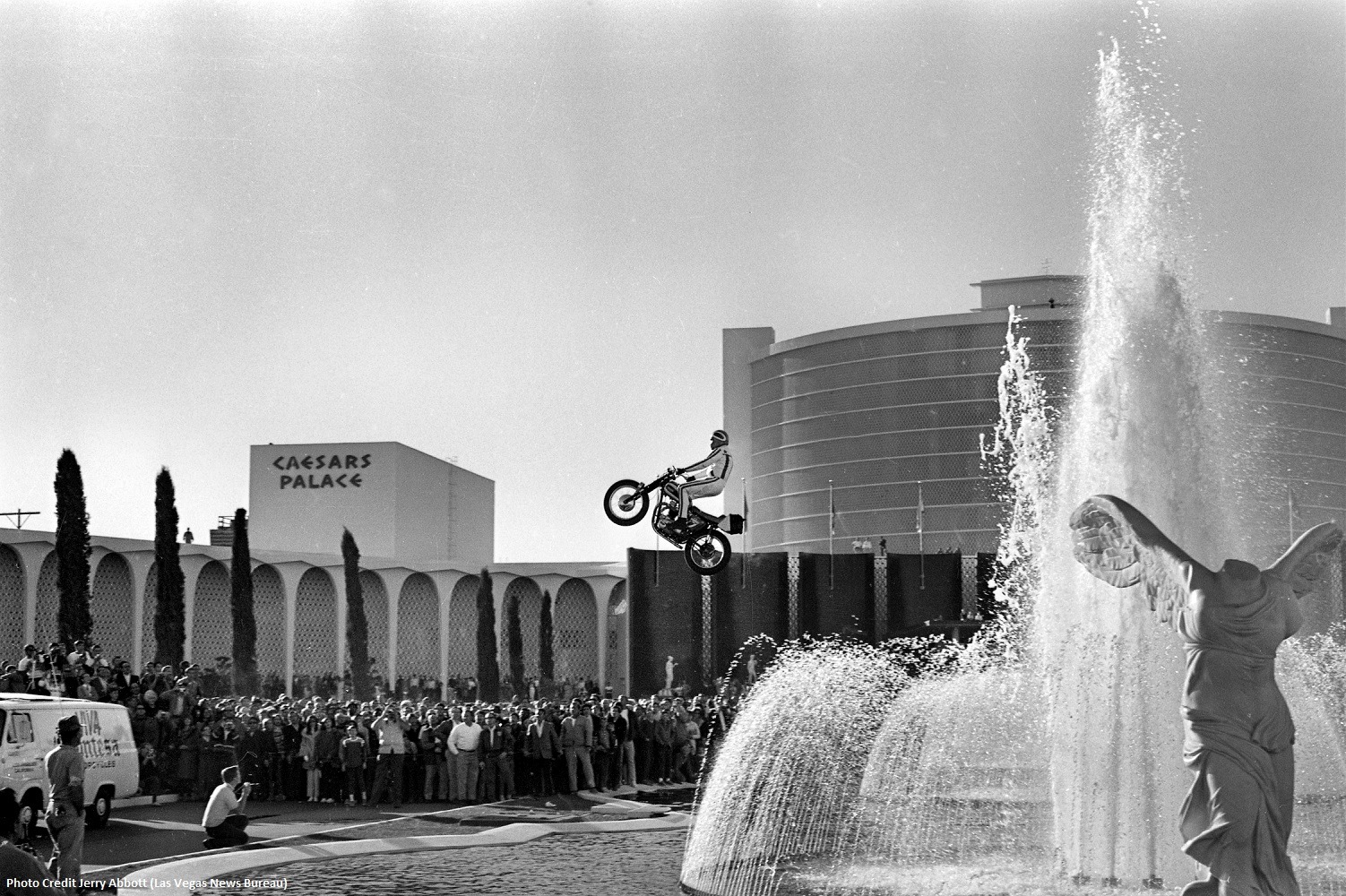 "Ever since I can remember Evel Knievel has been a hero to me and his influence still lives on to this day," said Travis Pastrana. "Having the opportunity to pay tribute to him at Caesars Palace, where Evel became a household name, is a huge honor. At Nitro Circus we have pulled off some huge stunts, but this has to be the most iconic one yet."
"For more than 50 years, Caesars Palace has been a trailblazer in entertainment, hosting over-the-top sporting events in the center of the Las Vegas Strip. 'Evel Live' is a testament to that rich legacy and to the evolution of extreme sports," says Gary Selesner, regional president of Caesars Palace.
During "Evel Live," Pastrana will aim to surpass three of Knievel's most infamous jumps over the course of three hours in one action-packed night, including jumping the length of 52+ crushed cars and 16 Greyhound buses directly behind Planet Hollywood Resort & Casino, Paris Las Vegas and Bally's Las Vegas. The finale will occur over the iconic fountains of Caesars Palace. If successful, Pastrana will break Knievel's records and will be the first person to complete three of Knievel's greatest jumps consecutively.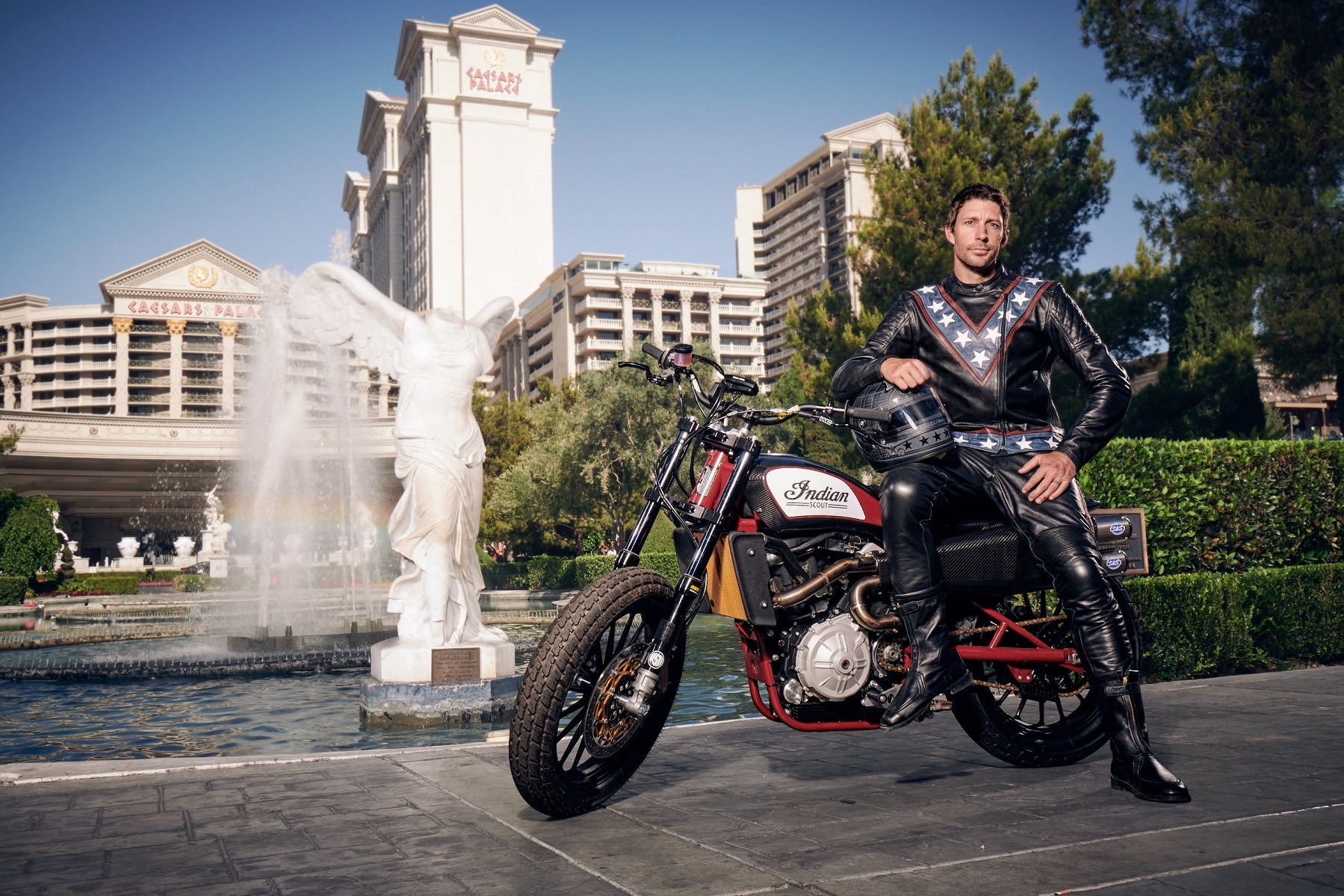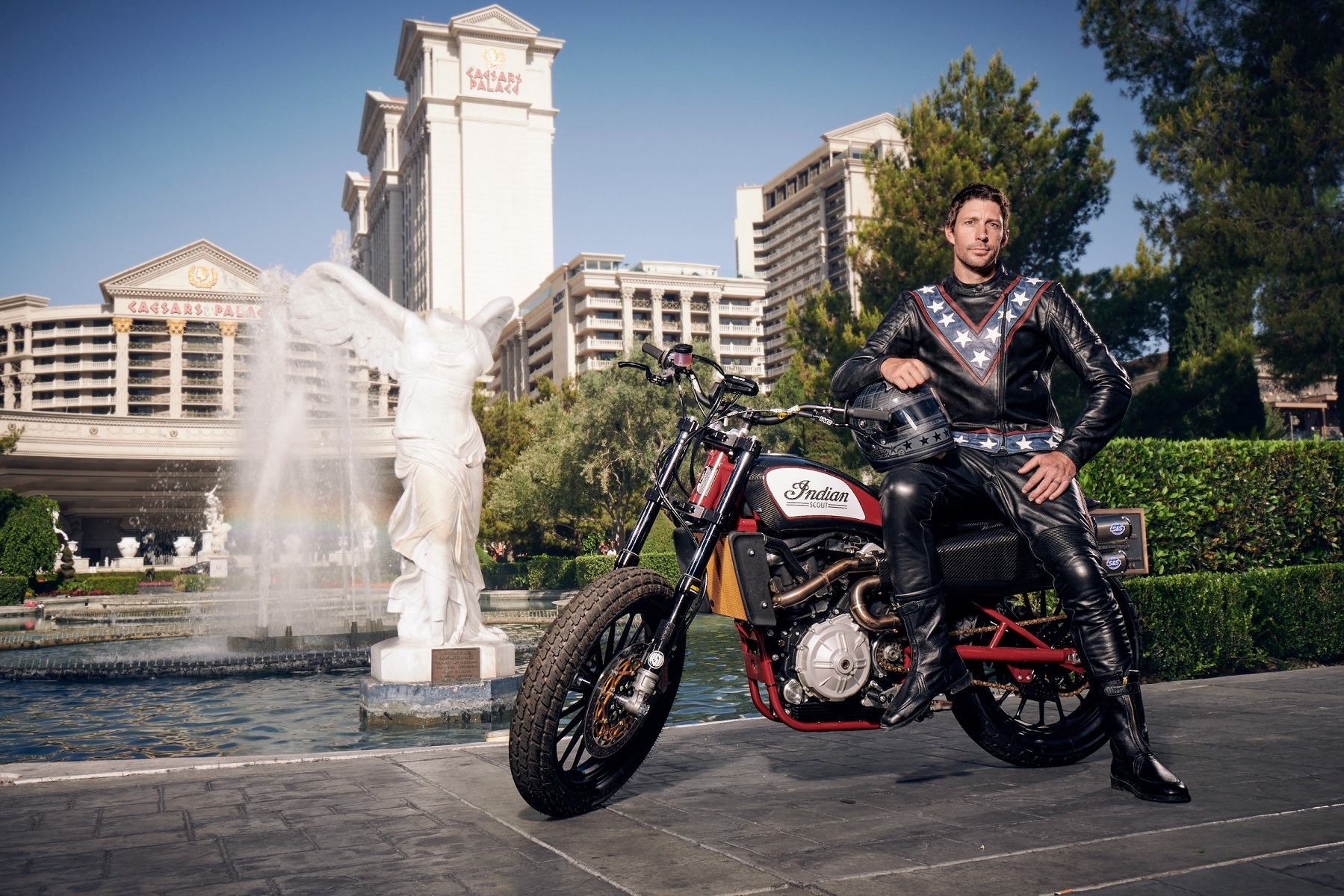 Travis Pastrana is an 11-time X Games gold medalist, the world's first rider to land a double backflip on a motorcycle and America's modern-day daredevil. Pastrana has won multiple championships in motocross and rally car racing, as well as competed in NASCAR and Race Of Champions, which brings together the world's finest drivers from all disciplines of motorsports competition.
Knievel suffered fractures and a severe concussion when he attempted to jump the fountains in 1967, while Gary Wells sustained multiple injuries to his body during his unsuccessful attempt in 1980. Raising the stakes even higher, Pastrana will use a V-twin flat track motorcycle – an Indian Scout FTR750 – similar to the bikes that Knievel used in his day. Far from the light dirt bikes that Pastrana is used to riding, the FTR750 is designed for speed and control with both wheels on the ground.
Caesars Palace is allowing guests to make their own history with special pricing on their next Las Vegas getaway. In honor of "Evel Live," guests can enjoy up to 30 percent off stays at Caesars Entertainment Las Vegas Resorts through Dec. 28, 2018. Stays must be booked by July 31, 2018 using the code "JUMP" at Caesars.com. Blackout dates apply.
The events are free and open to the public, and tickets are not required. The public can access the jumps in the lot behind Bally's Las Vegas, Paris Las Vegas and Planet Hollywood Resort & Casino beginning at 3:30 p.m. The public can access the jump at Caesars Palace beginning at 6 p.m.
Nitro Circus, producer of jaw-dropping world firsts such as Pastrana's 2017 barge-to-barge backflip on London's River Thames and Josh Sheehan's massive triple backflip on a motorcycle in 2015, will create another milestone moment with "Evel Live." Caesars Palace is the perfect setting, given Knievel's celebrated jump that changed history a half century ago. On Dec. 31, 1967 Knievel, just beginning to gain national notoriety, throttled up his iconic red, white and blue motorcycle and flew over the photogenic fountains – an image quickly embedded in pop culture. In the decades since, Caesars Palace has been recognized as a destination for spectacular live events. The fountains have remained a tempting challenge for riders eager to follow in Knievel's footsteps and some, such as Evel's son Robbie Knievel and Mike Metzger, have even successfully completed the jump on much lighter motocross bikes. But none have attempted to do so riding a motorcycle like one that Knievel used – until now.
"Evel Live" is produced by Nitro Circus Media Productions in partnership with HISTORY®. Trip Taylor and Dave Mateus are executive producers for Nitro Circus Media Productions. Zachary Behr, Sean Boyle and Mary E. Donahue are executive producers for HISTORY®.
Related Links: