Having already spent more than five decades in the entertainment spotlight, the unwavering talent and lasting showmanship of Donny & Marie remains so popular that the multi-talented duo have announced the extension of their critically-acclaimed residency in the Donny & Marie Showroom at Flamingo Las Vegas through the end of 2018.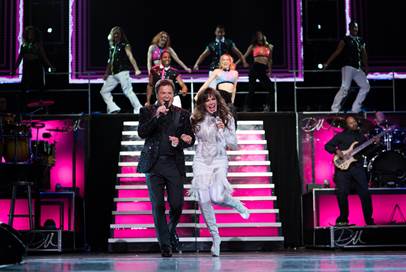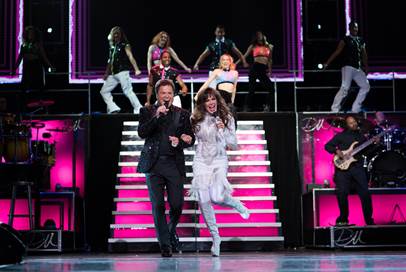 With competition in Las Vegas more heated than ever before, Donny & Marie have proven to deliver one of the most dynamic and high-energy shows in Las Vegas. Since beginning in Sept. 2008, the singing duo has now performed more than 1,300 shows. What began as only a six-week concert engagement ended up being so well received that by popular demand, the residency was extended again and again. With sold-out rooms featuring high-energy performances, their distinctive blend of talents will go on for another year; enabling them to hit a milestone decade on the famed Strip.
From the pop-fueled medley of modern mash-ups in the opening number, to songs from each of their latest albums, to the nostalgic nod to their variety-show past in the show's close, Donny & Marie take their fans on a musical journey that further proves their performing pedigree. Consistently named among the "must see" and "best of" shows in Las Vegas and performing regularly to packed audiences, it's no wonder that perennially-popular siblings Donny & Marie Osmond have extended their widely-lauded residency atFlamingo Las Vegas.
While the extension of the residency ushers in a new decade of Donny & Marie performing on The Strip, the brother-sister duo have been wowing audiences worldwide for more than five decades – an undeniable legacy that continues and has never been better.
"We initially signed on for a six-week run, and now we're headed into our 10th year," said Donny. "Marie and I are constantly changing our show, that's probably why we're fortunate enough to enjoy such longevity and make history here at the Donny and Marie Showroom."
"I never would have imagined that we would be the longest-running headliners with a showroom named after us at Flamingo Las Vegas," said Marie. "What an exciting journey it has been and we are so looking forward to continuing to make people feel good when they come to our show. Music truly is medicine and we can all enjoy its healing powers."
"Not only are Donny & Marie some of the Strip's most popular entertainers, their everlasting career has continued to be a remarkable success at Flamingo Las Vegas," said Jason Gastwirth, Caesars Entertainment senior vice president of marketing and entertainment. "They are beloved members of our Caesars Entertainment family and I'm thrilled that we were able to have them continue on with us for a historic 10th year at the Flamingo. We are honored to celebrate their everlasting success as we reach this notable milestone together."
Tickets are on sale for the following performances:
Jan. 2018: 23 – 27, 30 – 31
Feb. 2018: 1 – 3, 13 – 17, 20 – 24
March 2018: 6 – 10, 13 – 17, 20 – 24, 27 – 31
April 2018: 3 – 7, 24 – 28
May 2018: 1 – 5, 29 – 31
June 2018: 1 – 2, 5 – 9, 12 – 16, 19 – 23
July 2018: 31
Aug. 2018: 1 – 4, 7 – 11, 28 – 31
Sept. 2018: 1, 4 – 8, 11 – 15, 18 – 22, 25 – 29
Oct. 2018: 16 – 20, 23 – 27, 29 – 30
Nov. 2018: 1 – 3, 6 – 10, 13 – 17
Donny & Marie perform at 7:30 p.m. Tuesday – Saturday in the Donny & Marie Showroom at Flamingo Las Vegas, with post-show meet and greet packages available every night except Saturday.
Related Links: