Designed to be an experiential and immersive destination restaurant, guests to Gordon Ramsay HELL'S KITCHEN at Caesars Palace will feel transported to the studio set of the globally-popular FOX television show. As of today, fans can begin placing reservations to be one of the first to experience Ramsay's newest culinary venture, with the first reservations set for Tuesday, Jan. 16. With inspiration from the show, as well as one-of-a-kind features, here are the top 10 reasons to make your reservation: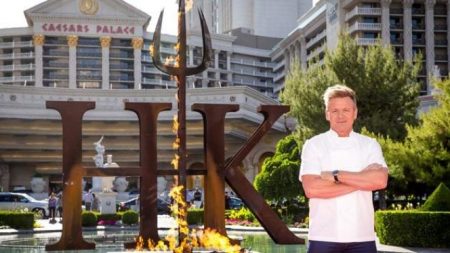 1. As guests enter Gordon Ramsay HELL'S KITCHEN, they will be welcomed by a piece straight from the set – the iconic bronze HK sign with pitchfork.
2. Once inside, guests will not only feel but hear the energy of the space, with audible kitchen commands. You too may catch yourself repeating back, yes, chef!?
3. Several of the most successful signature menu items and recipes featured on the television show can be experienced at the finest quality during lunch and dinner including; pan-seared scallops, lobster butternut squash risotto, truffle carbonara and crispy skin salmon.
4. Red and blue design details will be dispersed throughout the restaurant, but most prominently around the kitchen, which serves as a focal point, much like the show.
5. Pulled directly from the small screen, chefs and cooks in the kitchen will be in the exact uniforms from the show – red and blue jackets with coordinating bandanas.
6. HELL'S KITCHEN's iconic "H" and pitchfork symbols are cleverly featured throughout the custom-designed, laser-cut screen partitions and soft charcoal and ash-hued wallcovering.
7. To emphasize the show's fiery spirit, custom designed lighting that combine brass rods with pitchfork features runs across the high ceilings.
8. Special menu items direct from the show will be added as new episodes air.
9. The winner of Season 17 of HELL'S KITCHEN All-Stars, now airing, will be named Head Chef. Tune in now to get familiar with who you may see cooking it up in the kitchen next.
10. Mark your calendars for the restaurant's fiery grand opening, set to take place Friday, Jan. 26. Public festivities begin at 4 p.m. in the Roman Plaza area, just outside of the HELL'S KITCHEN restaurant, at Caesars Palace.
Gordon Ramsay HELL'S KITCHEN will seat nearly 300 guests, and will offer a daily lunch, dinner and a spirited bar menu. Masterfully designed by Jeffrey Beers International, with floor-to-ceiling glass windows lining the perimeter, the restaurant will offer ideal views of the famous Las Vegas Strip.

As is the case with all of Chef Ramsay's restaurants, the highest in food quality and dining experience is paramount. Gordon Ramsay HELL'S KITCHEN marks Ramsay's fifth Las Vegas restaurant and extends his successful partnership with Caesars Entertainment. The new restaurant is a partnership between Gordon Ramsay and Caesars Entertainment in conjunction with ITV America. HELL'S KITCHEN airs in the U.S. on FOX and is produced by ITV Entertainment in association with A. Smith & Co. Productions. Arthur Smith, Kent Weed, Kenny Rosen, David Eilenberg and Gordon Ramsay serve as executive producers. HELL'S KITCHEN airs in 41 countries around the globe.