International superstar Britney Spears' iconic headlining residency, "Britney: Piece of Me" at Planet Hollywood Resort & Casino, received an impressive four Gold Best of Las Vegas 2017 Awards. Voted by readers of the Las Vegas Review-Journal, awards include: "Best Bachelorette Party," "Best Bachelor Party," "Best Production Show" and "Best Resident Performer/Headliner." These accolades further cement Britney's title as a true Las Vegas entertainment icon, and mark another milestone for her incredible, record-breaking show at Planet Hollywood.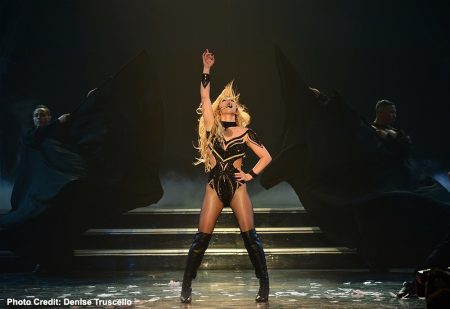 Since opening in Dec. 2013, "Britney: Piece of Me" has received rave reviews from both critics and fans alike. It should come as no surprise that Britney's Las Vegas show was voted the best production show in the city. The wildly popular show has also drawn the attention of some of Hollywood's biggest names, such as Beyoncé, Jay Z, Lady Gaga, Anna Kendrick, Nick Jonas, Miley Cyrus, Kirsten Dunst, Chloë Grace Moretz, Calvin Harris and Steven Tyler.
As the first contemporary superstar resident in the city, Britney pioneered the groundbreaking paradigm shift and revitalized the modern era of entertainment in Las Vegas. The record-setting show is sold out on a regular basis and as of January 2017, the show has grossed over $100 million in ticket sales.

  Britney: Piece of Me Tickets
Tickets to the final following performances are on sale now:
December 2017: Tuesday, Dec. 19, Wednesday, Dec. 27, Thursday, Dec. 28, Saturday, Dec. 30, Sunday, Dec. 31
All shows begin at 9 p.m.
Dazzling fans with show-stopping performances for more than 15 years, Britney has truly brought her most spectacular show to Las Vegas. A celebration of one of the most illustrious careers in music history, the jaw-dropping production is a compilation of more than 20 of Britney's worldwide hits, including "Baby One More Time," "Oops I Did It Again," "Toxic," "Circus," "Womanizer," "Slave 4 U" as well as her newest singles, "Make Me…" and "Slumber Party." "Britney: Piece of Me" is the most cutting-edge pop concert experience ever produced for Las Vegas, featuring a four-piece band, 16 dancers, elaborate sets, unforgettable costumes and state-of-the-art technology.
In 2016, Britney unveiled a substantial re-imagination of her show. From fresh, seductive costumes to explosive new choreography, Britney is better – and sexier – than ever. With the addition of fan-favorite songs, such as "I Love Rock 'N' Roll," "Breathe on Me," "Touch of My Hand" and "If U Seek Amy," the international superstar has once again taken her spectacular show to new heights. Taking to the stage with jaw-dropping production elements and showcasing visually stunning, cutting-edge technology, the audience experiences Britney as they've never seen her before.
Britney was the first artist-in-residence housed in The AXIS at Planet Hollywood Resort & Casino, which features one of the largest indoor video and projection installations in the world. With its innovative layout and exclusive table and bottle service provided by Drai's Management Group, The AXIS is set apart from any other venue in Las Vegas. The smaller, more intimately-sized theater allows Britney's fans to see her as they've never seen her before.
Related Links: