On Wednesday, July 26, the sensational cast and crew of Las Vegas' newest stage production, CIRCUS 1903 celebrated their opening night performance at Paris Theater at Paris Las Vegas. Featuring the world's most talented performers and breathtaking puppeteering, the new resident production transported the filled room of invited guests and theatergoers back to the golden age of circus with thrilling acts and all of the nostalgia that made the era one to never forget.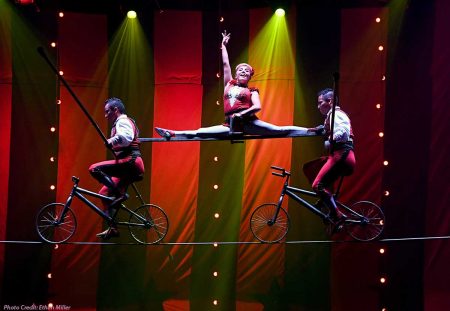 Sharing the story of traditional circus, the big top production presented awe-inspiring and death-defying acts such as aerial acrobatics, high-wire walking, body contortion and many others, mixed with heart-warming moments featuring the world's largest performing elephants, Queenie and Peanut, who are brought to life through groundbreaking design and puppeteering. Ringmaster Willy Whipsnade kept the laughter rolling throughout the one-act production, and the high-spirited audience delivered nearly non-stop applause in return to the extraordinary cast before giving them a full standing ovation at their final curtain call.

 Save Up to 25% on Circus 1903 Tickets
In attendance of the premiere performance was the production's director, Neil Dorward and creative producer Simon Painter, as well as several celebrities and local performers, including The Gazillionaire and Melody Sweets from ABSINTHE Las Vegas, cast members from MAGIC MIKE LIVE LAS VEGAS, magician Mac King, cast members from Chippendales, DIVASstar Frank Marino, comedy hypnotist Anthony Cools, mentalist Frederic Da Silva, and magician Murray Sawchuck.
Following the show, the cast and creative team joined invited guests for an exclusive post-show celebration at Napolean's Dueling Piano Lounge inside the center-Strip property. Late into the night, guests enjoyed a hosted bar and a selection of sweet treats inspired by the show – including caramel corn balls, miniature cotton candy cones, a liquid nitrogen popcorn station and more – while sharing laughs and their enjoyment for the performance.
Related Links: