MGM Resorts International and New York-based Sydell Group will debut a new meetings and conference space this fall as part of Monte Carlo Resort and Casino's transformation into the highly anticipated Park MGM. With a combination of innovative non-traditional spaces and flexible design, Park MGM will fill an unmet need in Las Vegas for small groups, while also offering beautiful spaces to host up to 5,000 attendees.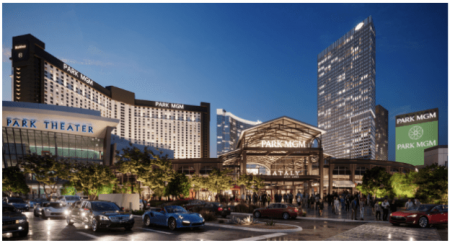 The modern conference space will feature expansive ballrooms, flexible meeting places and an outdoor terrace. The space will be highlighted by the city's first Executive Meeting Center (EMC) and Ideation Labs – two meeting areas designed to maximize productivity for small groups. Additionally, Park MGM will include an installation of the Stay Well™ program, the industry's first and most comprehensive wellness meetings experience. Meeting planners also will be able to take advantage of Park MGM's other stunning amenities – including the 30,000-square-foot Park Theater, restaurants by celebrated chefs, a luxurious pool environment and more – to curate comprehensive experiences for attendees. The main conference space will be completed in October 2017 with the introduction of the Executive Meeting Center and Ideation Labs in Q1 2018.
Central Park Terrace
Spanning 77,000 square feet with 43 meeting rooms, Park MGM's conference and event spaces will feature high-touch, high-tech meeting venues appealing to the ever-changing needs and preferences of meeting planners. Second-level meeting rooms will be filled with natural light and overlook the resort's elegant pool environment. For those wanting private outdoor meeting space, the 4,345-square-foot Central Park Terrace will provide the ideal setting.
Griffith Meeting Room
"Our vision is to deliver meeting spaces designed to inspire exploration, interaction, connection and success," said Michael Dominguez, MGM Resorts International's Chief Sales Officer. "Creating a casual, comfortable gathering place that blurs the boundaries between work and relaxation will ultimately lead to greater productivity."
Last spring, MGM Resorts and Sydell Group announced a partnership to reimagine and transform Monte Carlo Resort and Casino into two distinct new hotel experiences: the launch of Park MGM, and a Las Vegas version of Sydell's widely acclaimed NoMad Hotel. In addition to fully redesigned guest rooms, each hotel will feature food & beverage experiences unique to the Las Vegas market. Highlights include the award-winning NoMad restaurant by Chef Daniel Humm and restaurateur Will Guidara; Primrose, a new concept with Bryce Shuman at the helm; Eataly's vibrant Italian marketplace, and more. Park MGM and The NoMad Las Vegas will complete MGM Resorts' new neighborhood at the center of Las Vegas Boulevard, featuring The Park, an outdoor dining and entertainment district, and the award-winning T-Mobile Arena.
Executive Meeting Center (EMC)
The first of its kind in Las Vegas, Park MGM's Executive Meeting Center will feature 10 separate rooms that can accommodate varying layouts ideal for classroom training, product seminars and workshops for intimate groups from 10 to 50 people. Moveable furniture with integrated power, A/V and internet will easily facilitate breakout groups to encourage collaboration. With a shared pantry setup, these spaces will make it easier to hold meetings that are both efficient and cost-effective. All-inclusive pricing packages will let meeting planners pay a flat rate per attendee instead of being tied to high fixed costs. With 80 percent of MGM Resorts' convention groups at 100 guestrooms or less, the EMC will be an intriguing choice for many groups.
Shared Pantry in Executive Meeting Center
Ideation Lab
Intended to create a wide array of non-traditional workspaces, Park MGM's Ideation Lab will allow planners and attendees to utilize best-in-class tech for strategic collaboration. Seven labs, geared toward groups of six to 25, will be designed to spur creativity and drive results. Multiple integrated displays in each room will enable users to connect seamlessly and instantly, while the furniture will be designed to encourage movement and conversation in order to maximize engagement and productivity during every meeting.
Park Theater
A centerpiece of Park MGM's entertainment experience, Park Theater doubles as a signature event space. Accommodating up to 5,200 guests in 30,000 square feet of space, Park Theater is beautifully designed with floor-to-ceiling windows overlooking The Strip and The Park.
Stay WellTM Features and Wellness Programming
Park MGM's meeting and conference spaces will have more square footage dedicated to the Stay Well™ program than any other venue. The spaces (excluding the ballroom and Ideation Labs) will span 37,700 square feet and incorporate features to enhance the wellness of meeting attendees and promote more productive meetings, including:
• Air purification systems
• Aromatherapy
• "Biophilia" design elements for a more calming atmosphere
• Circadian lighting to emulate natural light
• Access to Cleveland Clinic Wellness programs online and via mobile app
• Optional healthy menus approved by Cleveland Clinic
• Exclusive access to Jiyo, Deepak Chopra's personal well-being mobile app, offering 360- degree wellness content on exercise, meditation, relationships, finances and finding purpose in every day
One floor of Park MGM's guestrooms will feature the Stay Well Hotel Program, allowing guests to rejuvenate and energize with a tailored experience that includes dawn simulation and long wave night lighting as well as air purification systems, contouring support natural memory foam mattresses, and more.
Related Links: