On July 25, 2017, hot dog aficionados gathered at American Coney Island (ACI) in the D Las Vegas to commemorate the landmark sale of its one-millionth Coney Dog. Additionally, the City of Las Vegas declared July 25 "American Coney Island Las Vegas Day," as the Detroit-originated company is currently celebrating 100 years in business.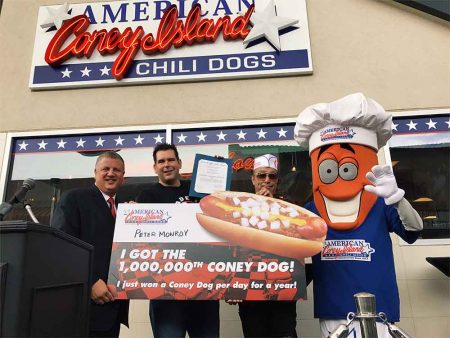 ACI co-owner Chris Sotiropoulos was joined by the D's CEO Derek Stevens and ACI's mascot Coney D for the special occasion, where locals and visitors alike lined up for the chance to purchase the coveted millionth dog. The lucky "wiener" was Las Vegas resident Peter Monroy, who received a year of free Coney Dogs.
"We've always loved Downtown Las Vegas and we are excited and lucky to have such a strong fan base outside of Detroit," said Sotiropoulos. "What better way to celebrate in Las Vegas than winning big?"
Sotiropoulos presented Monroy with a giant check for a years-worth of deliciousness, which was followed by Stevens reading Mayor Carolyn Goodman's proclamation recognizing July 25 as "American Coney Island Las Vegas Day." Additionally, Sotiropoulos surprised the purchaser of the 1,000,0001 Coney Dog with a $100 D Las Vegas Chip. Visitors were encouraged to check out American Coney Island's 100-year anniversary t-shirts, designed by Grammy-winning artist and Detroit native, Kid Rock.
American Coney Island was born in Detroit in 1917 and has continued its tasty tradition in Las Vegas by serving mouth-watering Coney Dogs at the D, its only location outside of Michigan. The beloved dish grew in popularity from its secret family "Coney Island Chili Sauce" recipe, which comes topped with mustard and sweet chopped onions.