Following the Wednesday, July 19 City Council meeting, seven council members voted unanimously to approve the 15-year lease agreement between Cashman Field and Las Vegas Pro Soccer LLC, which will bring a United Soccer League (USL) expansion team to Las Vegas with play to begin in the 2018 season.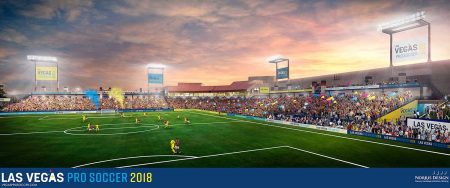 "I want to thank Mayor Goodman, the City Council members and especially Councilman Barlow for making our team a reality for Las Vegans," said Brett Lashbrook, founder and owner of Las Vegas Pro Soccer, LLC. "We believe that Downtown Las Vegas is the ideal location for professional soccer. Our mission is to create an authentic international soccer experience for local fans that is different than any other local team – one that fully embraces the diversity of our community. We are confident local soccer fans will help us turn Cashman Field into a stadium the replicates the amazing match day atmosphere of soccer stadiums around the globe – with non-stop singing, dancing, chanting, drumming, etc. We know Las Vegas is ready for professional soccer, and we plan to deliver on our promise to make this a soccer city."
Las Vegas' USL Division II team will become the 33rd Club to join the league. Throughout the 2018 season, the team will compete in 16 regular season games at Cashman Field. In addition, Las Vegas Pro Soccer LLC will utilize the field for additional events including, but not limited to, exhibition matches featuring international soccer clubs and more.
Fans are now able to place a $20 deposit (per seat) for season tickets at VegasProSoccer.com to ensure they enjoy every game during the upcoming season. Seat selection is available on a first-come first-served basis.
In addition, Las Vegas Pro Soccer LLC has invited the local community to submit name ideas for the team on their website. Entries will be available for submission until Monday, July 31 at 11:59 p.m. PT.