Hard Rock Hotel & Casino's renowned retro-style diner, Mr. Lucky's Café, reinvents diner classics with a tasty new burger and sandwich menu. As an added bonus, all burgers can be made with beef, turkey, grilled chicken or veggie patties.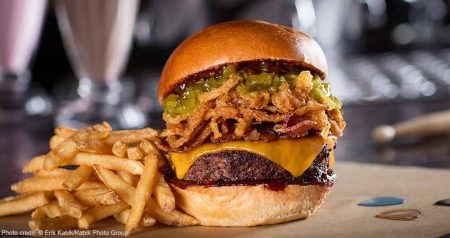 New menu highlights include:
• Lucky's Signature Burger: double patty, cheddar cheese, crispy bacon, shredded iceberg lettuce, tomato, pickles and Thousand Island dressing ($17.99)
• Brunch Burger: house blend beef patty, sunny-side up egg, gruyere cheese, lettuce, tomato and Sriracha bacon mayo ($16.99)
• Bacon & Blue Burger: applewood smoked bacon, Maytag Bleu cheese, béchamel sauce and arugula ($16.99)
• Mushroom & Swiss Burger: caramelized onion, wood-fired mushrooms, peppercorn mayo and shredded lettuce ($16.99)
• Southwest BBQ Burger: chipotle barbeque sauce, applewood smoked bacon, cheddar cheese, pickle relish and onion rings ($16.99)
• Wild Caught Salmon Sandwich: wild caught salmon, tomato, red onion, lettuce, fried capers and mustard cream cheese ($15.99)
• Spicy Fried Chicken Sandwich: bread and butter pickles, Frank's RedHot mayo and shredded lettuce ($14.99)
The premier diner also offers guests the option to "build your own burger" for $16.99. All burgers and sandwiches come with a choice of french fries, side salad, potato salad, coleslaw or cottage cheese. Other signature dishes include Cali Caprese salad with thick cut tomatoes, cucumber, mozzarella, avocado, basil and balsamic vinaigrette ($12.99); Blackened Alfredo pasta with penne noodles, asparagus tips, tomato, roasted garlic oil and creamy parmesan sauce with chicken ($14.99) or shrimp ($16.99); and Disco Fries with brown gravy, melted cheese and bacon smothered french fries ($8.99).
Mr. Lucky's Café is open twenty-four hours a day, seven days a week.
Related Links: