Rick Harrison, owner of Pawn Plaza, announced today the additions of Jared's Old Fashioned Hot Dogs & Hamburgers and Elite Motor Rentals Polaris Slingshot rentals as new tenants at Pawn Plaza. Jared's Old Fashioned is owned and operated by Hold On LLC partners Jared Debehnke and Daniel Kouretas. Elite Motor Rentals is wholly owned by Jared Debehnke.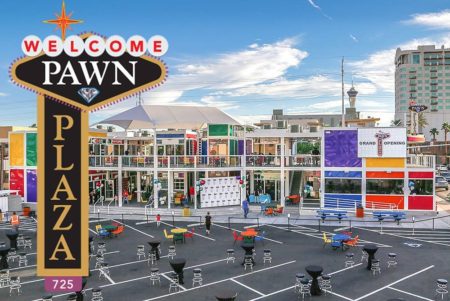 Jared's Old Fashioned Hot Dogs & Hamburgers features a variety of classic hot dogs and hamburgers made with the freshest USDA Prime beef with a choice of toppings, onion rings, French fries and tater tots. Jared's Old Fashioned is now open daily from 11 a.m. to 2:30 p.m.
Elite Motor Rentals, expected to open this spring, will offer Polaris Slingshot rentals for a variety of open road adventures including Red Rock Canyon, Mt. Charleston, Hoover Dam and more. The Polaris Slingshot is an exotic three-wheel hybrid of a car and a motorcycle.
"We're thrilled to welcome Jared's Old Fashioned and Elite Motor Rentals to Pawn Plaza," said Harrison. "Everyone at the Pawn Shop has already been enjoying the hot dogs and hamburgers and I look forward to trying out the Slingshot."
When asked about why he chose Pawn Plaza for his businesses, Jared Debehnke said, "I felt the location was centrally located so we can serve the downtown Las Vegas residents, and tourists who visit the area and the World Famous Gold & Silver Pawn Shop." He added, "Once people try one of our 100% all-beef hot dogs, they realize it's all about that 'snap.' We have received great feedback and nice crowds since opening our doors last week."
Jared's Old Fashioned and Elite Motor Rentals join BodySpa and Salon, Rockabilly Girl, So-Cal Speed Shop and Rick's Rollin Smoke BBQ & Tavern, with another new tenant expected to be announced in the coming weeks.
Pawn Plaza is located at 725 Las Vegas Boulevard South, just south of the World Famous Gold & Silver Pawn Shop, home to HISTORY's "Pawn Stars."