Bellagio's Conservatory & Botanical Gardens' Lunar New Year display honoring the Year of the Rooster was unveiled this week, and will continue to bring good fortune and prosperity to visitors through March 4. Created by renowned event designer Ed Libby, in collaboration with the Bellagio Horticulture team and Feng Shui Master George Yau, the gardens are brought to life with over 20,000 flowers, silk-lantern chandeliers and a stunning preview of the highly anticipated Bellagio by MGM Shanghai resort.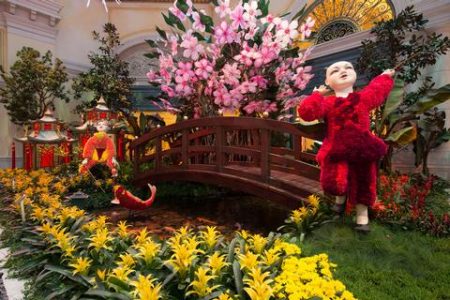 Upon entering the Conservatory, visitors walk through a 16-foot Moon Gate, serving as an inviting entrance into the gardens. Four ding pots burn incense to protect against bad fortune and four 17-foot standing red roses made from lentils line the corners of the East Bed from a shallow pond. Light from a 19-foot crystal chandelier adds a warm glow, complementing golden hues found throughout the East Bed.
Celebrating Bellagio's expansion into China, the North Bed showcases an 8-foot-tall model replica of Bellagio by MGM Shanghai, a luxury resort set to bring an entirely new, unforgettable and stunning experience to the renowned international metropolis of Shanghai beginning in summer 2017. The resort is a partnership with the Suning Group, a premier Chinese real estate developer and retailer, and will be managed by Diaoyutai MGM Hospitality, a joint venture of MGM Resorts and Diaoyutai State Guesthouse.
Located on Suzhou Creek, adjacent to the historical Waibaidu Bridge, Bellagio by MGM Shanghai will feature 165 guest rooms and 25 suites, the first restaurant abroad by acclaimed Chef Julian Serrano and panoramic views of the Lujiazui skyline.
The Conservatory & Botanical Gardens is open 24 hours a day, seven days a week and is complimentary to the public.
Lunar New Year Display Fast Facts:
Display dates: Now through March 4
Total flowers on display:
22,000
Mountain
Length: 35 feet
Width: 20 feet
Hanging Chinese Lanterns Chandeliers
Length: 19 feet
Width: 9 feet
390 feathers
250 jewels
Chinese Lanterns
Height: 8 feet
Width: 5 feet
Rooster
Height: 10 feet
10,000 feathers
Cherry Blossom Tree
Height: 18 feet
Width: 20 feet
Length: 10 feet
150 acrylic blossoms
75 dark green acrylic leaves
75 light green acrylic leaves
Moon Gate
Height: 16 feet
Width: 18 feet
Koi Pond
21,000 gallons of water
35 Koi
Fireworks
Diameter: 8 feet and 6 feet
Asian Children
1,500 fresh cut flowers
Red Rose Lanterns
Height: 17 feet
Sunflowers
Height: 14 feet
Related Links: