The most wonderful time of year arrives at Bellagio's Conservatory & Botanical Gardens, rich in nostalgia and tradition. Guests from near and far will cast their gazes upon snow-flocked trees, families of arctic animals and a 42-foot White Fir holiday tree, now through January 2, 2017.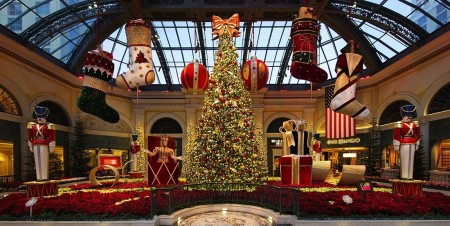 The journey begins in the East Garden as visitors make their way through Bellagio's new custom train station coated with crushed walnuts, filled with red and white Poinsettias and surrounded by four 16-foot white Silver Tip Fir trees. Standing guard at each corner are four animated toy soldiers robotically moving in unison as they welcome guests to the festive gardens. Visible through the station's archways, passersby will witness an arctic scene complete with a family of polar bears playing among icebergs and two 12-foot snow globes, each showcasing a classic wintertime setting.
Onlookers will catch their breath at the 42-foot White Fir holiday tree adorned with 7,000 twinkling lights and 2,500 colorful ornaments, located prominently in the center bed. Peeking through the branches are seven five-foot elves gleefully placing the final decorations on the tree. Nearby, a family of penguins watch over two 10-foot trains departing for the "North Pole" through two brick tunnels textured with crushed walnuts and lined with candy canes. Suspended high above the gardens is an illuminated moon and four 10-foot stockings stuffed with wrapped presents, visible from every vantage point.
Bellagio's Conservatory and Botanical Gardens is open 24 hours a day, seven days a week and is complimentary to the public.
Holiday Display Fast Facts:
Display dates: Now – January 2
Total flowers on display for the duration of the exhibit: 34,000
28,000 Poinsettias
2,000 Azaleas
2,000 Cyclamen
2,000 Ottowa mums
Total plants and shrubs on display for the duration of the exhibit: 750
Total trees on display: 25
Holiday Tree
Height: 42 feet
Diameter: 18 feet
Weight: 9,500 pounds
Number of lights: 7,000
Number of ornaments: 2,500
Train Station
Height: 17 feet
Length: 27 feet
Width: 13 feet
Train
1,200 red and white roses
Height: 6 feet
Length: 10 feet
Elves
200 stems
Height: 5 feet
Adult & Baby Penguins
Adult Height: 46 inches
Baby Height: 22 inches
Mother Polar Bear
12,000 carnations
Papa Polar Bear
500 stems white hydrangea
Polar Bear Cubs
180 stems white hydrangea
Snow Globes
Height: 12 feet
Diameter: 8 feet
Jack-in-the-Box
Height: 12 feet
Width: 6 feet
Toy Soldiers
Height: 14 feet
Stockings
Height: 10 feet
Width: 5 feet
Depth: 3 feet
Illuminated Moon
Height: 10 feet
Width: 5 feet
Snowflakes
Height: 10, 8 and 6 feet
Ornaments
Height: 10 feet
Related Links: