What does Nacho Daddy, Three Square Food Bank, Austin "Chumlee" Russell of HISTORY's "Pawn Stars," Mirage-headliner Terry Fator, and a plate of nachos have in common? Today, all came together to announce a delicious donation through Nacho Daddy's "Buy a Meal, Give a Meal" program. This morning at Three Square Food Bank, Nacho Daddy held the Nacho Average Throwdown pitting celebrities and chefs against one another for top honors and a donation to Three Square in their name. Nacho Daddy also celebrated their sizable donation of more than 110,000 meals to the organization that has been raised since the beginning of the year.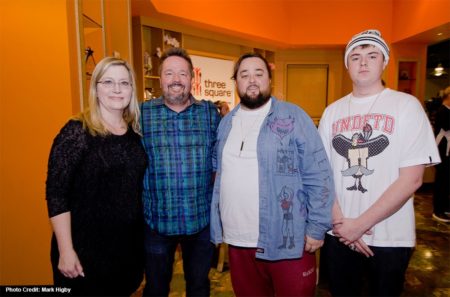 "Nacho Daddy proves that making a difference in your community can be done in a way that is engaging, while making a tremendous impact that benefits thousands of families here in Southern Nevada," said Brian Burton, President and CEO of Three Square Food Bank. "We were grateful to have them join us with an event marking their generous support, done in a way that further demonstrates their creativity, innovation and commitment to serving others."
Chumlee enlisted the help of his brother Sage Russell and Executive Chef Eric Scott of Nacho Daddy, while Terry Fator worked alongside wife, caterer, Angie Fiore-Fator and Executive Chef John Hilton of Three Square Food Bank. Team Chumlee created a Philly Cheesesteak Nacho including waffle fry "chips," provolone queso, steak, peppers and onions. Team Fator created a nod to Thanksgiving leftovers with both sweet and savory variations ? a bourbon soaked cranberry and cream cheese nacho and a nacho with turkey, gravy and corn served on a fried wonton skin.
Team Chumlee took home the award for "Best Nacho" and Team Fator won for "Best Vegetarian" option. With the judges locked in a split decision, they decided to divide the award adding the vegetarian category as a nod to Nacho Daddy's substantial vegetarian and vegan offerings. Both teams each received 2,500 meals donated to the organization in their honor.
Nacho Daddy not only provided their initial donation, but also announced they were continuing their efforts to raise money for Three Square through the "Buy a Meal, Give a Meal" program. Restaurant-goers can do their part by ordering an entr?e or nacho at any of the three locations in Las Vegas ? Miracle Mile Shops, Downtown Las Vegas and Summerlin.
"Nacho Daddy couldn't have made such an impactful contribution without our loyal customers," said Paul Hymas, President and CEO of Nacho Daddy. "We definitely want to extend a huge thank you to them, not only for their continued support, but also for allowing us to help the Las Vegas community in this way."
Through a grant with Target Corporation, Nacho Daddy's 110,000 meal donation was matched giving the charity more than 220,000 meals during today's presentation.
Judges included Paul Hymas, President of Nacho Daddy; Fred Mossler, Co-Founder of Nacho Daddy and with the Downtown Project; model, actress and Playboy Playmate, Crystal McCahill; Al Mancini, food critic and writer from Vegas Seven; Steve Duffy, Director of Global Partnerships, Vegas is Hockey; and food writers Scott & Elaine Harris.
Related Links: