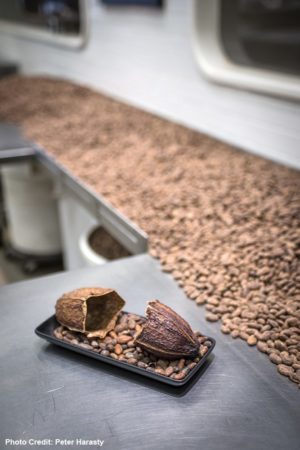 Nevada's first and only bean-to-bar chocolate maker, HEXX Chocolate + Confexxions, has introduced a new chocolate kitchen tour and deluxe tasting, "Behind the Bar with HEXX Chocolate," with reservations now available.
Located adjacent to HEXX Kitchen + Bar in Paris Las Vegas, HEXX's "Behind the Bar" experience offers exclusive content curated by head chocolate makers Matthew Silverman and Matthew Piekarski. Having identified cacao bean farms in Tanzania, Peru, Venezuela, Madagascar and the Dominican Republic, Silverman and Piekarski designed "Behind the Bar" to delve into HEXX's unique origin story. Made from only two ingredients, cacao beans and organic palm sugar, HEXX Chocolate's flavor varietals are determined by each country of origin. Tour-goers will learn more about each country's distinctive flavor and how HEXX's bean-to-bar process preserves the profile of the various beans.
Additionally, "Behind the Bar" will conclude with a deluxe chocolate tasting, where guests can sample and discuss all of HEXX's flavor varietals. In addition to chocolate bars, the tastings feature HEXX's signature molten chocolate, hot chocolate and dark chocolate ice cream, made in partnership with High Road craft ice cream. Founded by James Beard-award winner, Keith Schroeder, High Road is the only brand in the country to feature HEXX's signature dark chocolate.
Tours begin every half hour. Tickets for the experience are priced at $20 per person and can be purchased onsite or by phone at 702-331-5551.
Related Links:
Click For 20% Off Room Rates In Las Vegas
Click to Book Reservations: Hexx Kitchen + Bar