Maverick Helicopters, one of the world's leading tourism-based aviation companies, celebrates 20 years of operation this year. Entrepreneurs Greg and Brenda Rochna had a vision to create a company that would provide a true VIP-level experience that was not previously offered in the helicopter industry. In 1996, they did just that by launching Maverick Helicopters in Las Vegas. Their efforts have been realized through the support of the hospitality industry, past guests and dedicated team members.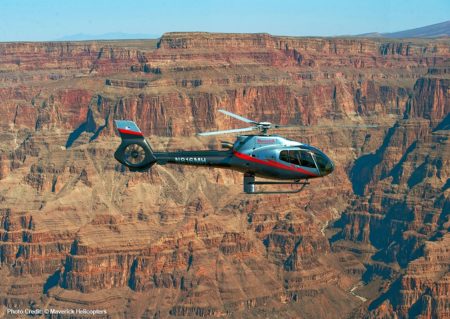 "Celebrating Maverick Helicopters' 20th anniversary is a huge milestone for us and our hardworking team," said Greg Rochna, owner and chief executive officer of Maverick Aviation Group. "We couldn't be more thankful to everyone who has helped us get to where we are today and look forward to the next 20 years and beyond."
Twenty years ago, Maverick Helicopters debuted with one aircraft and a group of committed flight personnel. Today, Maverick Helicopters operates the world's largest and youngest fleet of Airbus EC130/H130 ECO-Star helicopters and hold the industry's top safety record. As the company celebrates two decades of service, here are 20 of its most interesting facts:
1: Number of helicopters Maverick Helicopters started with in 1996.
4: Number of terminals Maverick Helicopters operates out of: Las Vegas, Grand Canyon South Rim, Grand Canyon West Rim, and Maui, Hawaii.
7: Years Maverick Helicopters has been the exclusive helicopter operator at Las Vegas Motor Speedway. It provides expedited helicopter transfers to NASCAR, Electric Daisy Carnival and the many driving schools located at the track.
7: Consecutive awards for "Best Air Tour" from the Southern Nevada Hotel Concierge Association's (SNHCA) Concierge Choice Awards.
12: Minutes of Maverick Helicopters' Vegas Nights flight, which showcases breathtaking views of the Las Vegas Strip and iconic landmarks.
12: Number of helicopters that can land at the bottom of the Grand Canyon at one time on Maverick Helicopters' exclusive landing site.
13: Number of languages the MavStar Language System ? an exclusive, multilingual GPS-based narration system ? offers aboard some of Maverick Helicopters' Las Vegas flights including Cantonese, Portuguese and Spanish.
40: Number of shuttles used for complimentary ground transportation to and from the Las Vegas Strip; 15 of which are limo coaches.
45:Minutes of flight from McCarran International Airport to the bottom of the Grand Canyon West Rim.
47: Number of helicopters in Maverick Helicopters' fleet.
90: Consecutive hours Maverick Helicopters remains open during Electric Daisy Carnival, Las Vegas. In 2016, 22 helicopters were used to fly to Electric Daisy Carnival.
428: Number of employees at Maverick Helicopters; 84 of which are pilots.
1,200: Hours pilots are required to have flown before flying with Maverick Helicopters.
2,755: Hours of training Maverick Helicopters' maintenance technicians recorded for 2015. More than 1,900 of those hours were provided through the company's homegrown training courses.
80,000: Total components in the Airbus EC130/H130 ECO-Star helicopter.
200,000: Number of guests Maverick Helicopters flies annually.
400,000: Total flight hours logged since Maverick Helicopters' inception; 350,000 of which were flown in Airbus EC130/H130 ECO-Star helicopters.
2.2 million: Approximate number of passengers Maverick Helicopters has flown during its 20 years of operation.
$3.3 million: The new acquisition price of an Airbus H130 ECO-Star helicopter retrofit to Maverick Helicopters' standards.
$5 million: The amount Maverick Helicopters invested in its Las Vegas 6,000-square-foot terminal in 2015 to make it one of the most elaborate helicopter terminals in the world.