In commemoration of the 31st anniversary of the discovery of RMS Titanic's wreck site, six personal possessions belonging to First Officer William Murdoch will be on display for a limited time at Titanic: The Artifact Exhibition inside Luxor Hotel and Casino starting Sept. 1. The artifacts, which will be on exhibit in Las Vegas through October before heading to the Orlando Exhibition, have only been available for public viewing once in 2012.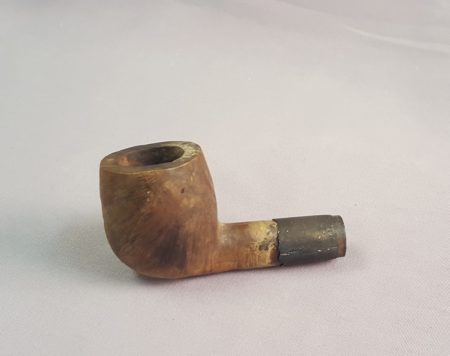 "Due to our continued research of our collection and Titanic, First Officer Murdoch is one of a handful of passengers and crew members whom we were able to directly identify personal possessions," said Alexandra Klingelhofer, vice president of collections for Premier Exhibitions, Inc. "It is extremely difficult to link the artifacts to passengers aboard the 'Ship of Dreams' unless they are enclosed in a protective suitcase or other leather casing with the passenger's name or initials inscribed. Murdoch's discovery is incredible because it gives us the chance to help tell a story that was thought to be lost with the great ocean liner."
First Officer Murdoch was on the bridge when the "Unsinkable Ship" collided with the iceberg that fateful night in 1912 and desperately tried to save the Ship before assisting passengers into lifeboats. Murdoch's recovered belongings include a toiletry kit, which contained a shoe brush, an official White Star Line officer's button, a straight razor, a pair of long-johns and a smoking pipe.
Some of the following clues that link the artifacts directly to Murdoch include:
? Toiletry Kit: William Murdoch's initials, "W.M." are clearly embossed on the leather bag.
? White Star Line Officer Button: Officers were given uniforms, but needed to purchase their own buttons, making easily-accessible spares necessary.
? Straight Razor: For many years, Murdoch sported a mustache, but with marriage and entrance into the Royal Navy Reserve, he shaved it off.
? Long-Johns: Officers and crew members had multiple pairs of long-johns, which would have been necessary for Murdoch's frigid overnight shifts.
Born to a Scottish seafaring family in 1873, William Murdoch was destined for the sea. On April 14th, First Officer Murdoch entered Titanic's bridge shortly before 10:00 p.m. to begin his watch and relieve Officer Lightoller. As soon as the lookouts spotted the iceberg, Murdoch?in a matter of seconds?gave the order "Hard-a-starboard!" and then telegraphed the engine room "Stop. Full speed astern." He then threw the switch to close the watertight doors. Once the situation was realized, Murdoch spent the remainder of his time loading the starboard lifeboats. First Officer Murdoch did not survive the sinking.
Titanic: The Artifact Exhibition takes guests on an emotional journey through the life of the legendary ship. Along the way, visitors learn countless stories of heroism and humanity, paying tribute to the indomitable force of the human spirit in the face tragedy.
Related Links: