In honor of National Hot Dog Day, Pink's Hot Dogs at Planet Hollywood unveiled a new celebrity hot dog. Paul Zerdin, star of "Mouthing Off," released a new hot dog dedicated to his Strip resident production, available exclusively at one of Las Vegas' favorite hot dog spots.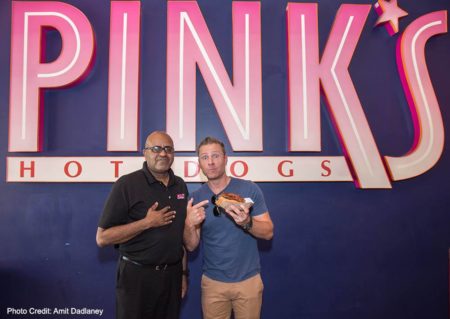 Save $20 on Paul Zerdin Mouthing Off Tickets
The 'America's Got Talent' season 10 winner Paul Zerdin will join Pink's Hot Dogs iconic wall of fame alongside other celebs who have created their own hot dogs, including Kim Kardashian, Holly Madison and Brad Garrett.
"The 'Mouthing Off' dog at Pink's Hot Dogs is an American dream come true," said Paul Zerdin. "I couldn't imagine a better way to celebrate National Hot Dog Day and my first-ever Strip residency."
Zerdin's hot dog is inspired by his smash-hit residency at Planet Hollywood and features pastrami, chili, bacon, mushrooms and tomato for $8.99.
Related Links: