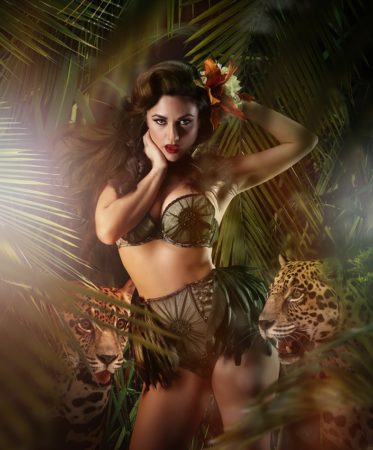 Lions and tigers and Sweets, oh my! ABSINTHE's sultry Green Fairy Melody Sweets will transform the ABSINTHE Spiegeltent at Caesars Palace to a tropical jungle in her latest production ? "Call of The Wild! Jungle Burlesque" on Saturday, July 30 at midnight. For one-night-only, guests will be transported into the wild by Sweets as she performs a variety of songs, including original numbers from her debut album Burlesque in the Black and covers of some of her favorite hits. Doors open at midnight and attendees must be 18+. Tickets are on sale now at MelodySweets.com.
Following the success of her productions, "Coney Island! Burlesque at the Beach!," " Big Top Circus and Burlesque," and "Wild Wild West Burlesque," Sweets invites revelers to swing into a night filled with intoxicating performances, special surprises and untamed fun.
"Call of the Wild! Jungle Burlesque" will showcase performances by:
? ABSINTHE's Green Fairy, Melody Sweets
? ABSINTHE's Lijana Wallenda and her Wire Walking Wonders, Andrew Adams and Will Howard
? Scotty the Blue Bunny
? Miss Exotic World, Trixie Little
? Death defying crossbow stunts by Mr. & Mrs. G
? Zumanity by Cirque du Soliel's Wassa Coulibaly
? King of Burlesque, Captain Kidd
? ?and more!
"Call of the Wild! Jungle Burlesque" will feature live music by an all-star band, including Eric Plante of "O" by Cirque Du Soleil, Steven Lee of Donny and Marie, David Perrico of Pop Strings Evolution, Mike Benigno of MJ Live!, Del Cheetah of Criss Angel MINDFREAK? LIVE! and Gabriel Falcon of Santa Fe and the Fat City Horns.
A limited number of pre-sale tickets are available now for purchase online at MelodySweets.com for $25, as well as VIP tickets for $40. Tickets may be purchased at the door the night of the event for $30. All proceeds from the event will benefit the SARMOTI Foundation.
The SARMOTI Foundation is dedicated to Protect, Conserve and Preserve endangered and threatened animals globally, with particular focus on the big cats: tigers, lions, cheetahs, panthers and leopards. The Foundation's programs, events and products Entertain, Educate and Motivate the public to take direct action to prevent the extinction of big cats in our lifetime.
Melody Sweets has had music featured on MTV, VH1, A&E and National Geographic on hit shows such as Celebrity Fit Club and PUNK'D. A lover of the arts, Melody Sweets has had the privilege of performing for and collaborating with such acclaimed artists including STING, Bj?rk, Moby, Alice Cooper, The Bravery, Marc Jacobs, Fergie of the Black Eyed Peas, Adriana Lima and Harvey Keitel. Sweets' debut album Burlesque in the Black, released in 2013, features popular hits performed nightly in ABSINTHE including "Slice of Heaven," "Taboo" and "Up All Night," as well as a collection of other songs composed exclusively for Sweets' burlesque journey across the globe."
Related Links: