Celebrated actor and singer James Maslow joined Frankie Moreno and his powerhouse band onstage in UNDER THE INFLUENCE for a special guest performance at the PH Showroom at Planet Hollywood Resort & Casino in Las Vegas on May 20, 2016. Maslow kicked off his three-day engagement with the band with the debut of his new song, "What If," which is co-produced by Moreno. Maslow and the band continued with acoustic performances inspired by Maslow's musical influences, including MAROON 5's "Sunday Morning" and Stevie Wonder's "Signed, Sealed, Delivered I'm Yours."
Following the debut performance, the audience met Maslow, Moreno and the band with thunderous applause and a standing ovation inside of the crowded Showroom.

Save 50% on Frankie Moreno – Under The Influence Tickets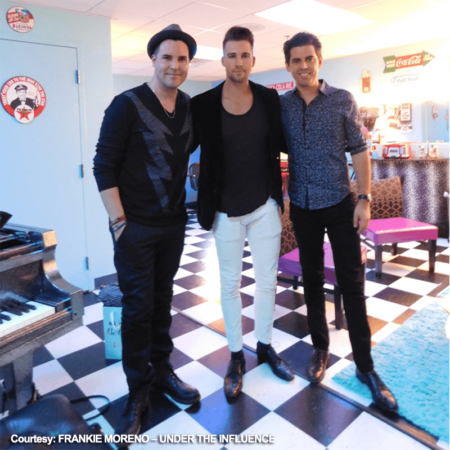 Save 50% on Frankie Moreno – Under The Influence Tickets
ABOUT FRANKIE MORENO ? UNDER THE INFLUENCE: Hailed as "a show you don't want to miss" by the Huffington Post and an "extraordinary evening of entertainment" by Las Vegas Magazine, twice-named 'headliner of the year', Moreno is an all-around talent who puts his heart and soul into his music and leaves audiences begging for more! Blending retro vibes with a hip modern sound, UNDER THE INFLUENCE brings to life Moreno's very personal path to becoming a Las Vegas Headliner. Each performance features Moreno's hit-inspired original music and reimagined takes on chart-topping songs, as well as signature choreography and performances by professional dancer Lacey Schwimmer of Dancing With the Stars fame.