Now through Aug. 31, NOVE Italiano at Palms Casino Resort is cranking up the heat with a seasonal summer menu that features refreshing ingredients exclusively available during this scorching time of year. The new menu, with various regional dishes from Italy, features fresh berries, creamy cheeses and light entrees to perfectly complement Sin City's heavy heat waves.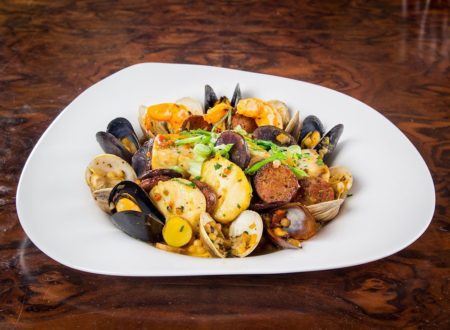 "Summer is such an exciting time for me as a chef because I can infuse fresh berries and seasonal ingredients into our authentic Italian menu to create the perfect balance between innovation and tradition for our guests," said NOVE Italiano's Executive Chef, Marlon Simbulan.
Summer menu items include:
Antipasti:
? Fresh fruit and cheese board featuring gruyere, aged gouda, port salute, pistachio mascarpone, strawberries, grapes, honey and pear gorgonzola gelato for $16
? Seared potato ravioli (Brescia) with taleggio cheese, grana padano, black truffles and white truffle oil for $16
? Yellowtail crudo (Calabria) made with orange segments, watercress, pesto, Calibria chili oil and blood orange olive oil for $19
Insalate:
? Sicilian figs and prosciutto di parma (Sicily) with arugula, blueberry goat cheese, aged balsamic and olive oil for $14
Pasta:
? Fregola seafood "paella style" (Sardinia) with pearl shaped pasta, white sea bass, little neck clams, mussels, scallops, shrimp, Nduja sausage and saffron tomatoes for $38
Signature Dishes:
? Lemon chicken Amalfitano (Amalfi Coast) made with toast points, roasted garlic and Meyer lemon olive oil for $32
? 12-ounce grilled bone-in swordfish steak (Sicily) with fris?e, watercress, cherry tomato citronette, roasted gruyere rosemary hasselback potatoes and caramelized garlic olive oil for $42
? 32-ounce Bistecca Alla Fiorentina (Firenze) with garlic parmesan spinach orzo, fried egg, Meyer lemon and caramelized garlic olive oil for $99
Side Dish:
? Nonna's pulled chicken (Lombardia) risotto made with Acquerello aged carnaroli rice, parmesan tomatosauce and shaved pecorino for $14
Dessert:
? Panna Cotta with passion fruit, raspberries, pistachio mascarpone, white chocolate and crumbs for $12
NOVE Italiano is open Tuesday-Thursday from 5 ? 10 p.m. and Friday and Saturday from 5:30 ? 11 p.m.
Related Links: