Because of overwhelming demand, GIADA in the Cromwell has broadened brunch to Fridays, in addition to weekends. With brunch having been an immediate success, Giada De Laurentiis? namesake restaurant will offer visitors a much greater chance to sample the famous chef?s California Italian twist on brunch, featuring sweet, savory and all things in between.
Brunch fan favorites include the Italian Chicken & Waffle and the Sunrise Polenta Waffle. The Italian Chicken and Waffle incorporates one of De Laurentiis? notable dishes, her Chicken Cacciatore, but pairs it with a Parmesan and chive crusted polenta waffle that guests can dip in cacciatore sauce or traditional syrup with a side of lemon butter. The Sunrise Polenta Waffle includes pancetta, chives, two sunny side up eggs and a side of both b?chamel and noble maple syrup. The menu also includes a variety of antipasti, salads, sandwiches and pasta.
De Laurentiis has also expanded the selection of house-made pastries, which visitors can select individually or create a basket of five. The assortment contains: banana muffin, gluten free blueberry muffin, polenta muffin, savory bacon corn muffin, orange sticky bun, chocolate hazelnut brownie bites, raspberry Danish, cheese Danish, yogurt cake, rosemary scone and chocolate croissant monkey bread.
GIADA brunch can be experienced a la carte or via a carefully curated tasting menu. For $45, the tasting menu includes an assortment of pastries; an antipasti platter with eggs benedict deviled eggs, mini pizza di pasta and brussel sprouts crostini; an entr?e and a dessert selection of limoncello souffle with buttermilk gelato, a leaning tower of chocolate and espresso or a lemon ricotta cookie ice cream sandwich with raspberry and buttermilk gelato.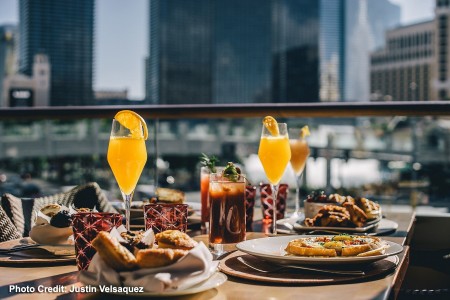 A key element to a successful brunch is an expansive beverage program, which GIADA delivers. Limitless La Marca mimosas are available for $30, and bottles of Moet & Chandon, Ferrari and Veuve Clicquot are also available at a valued price. The beverage menu features a classic Bloody Mary made with RIPE cold-pressed Bloody Mary mix; Giada?s signature sangria; bellinis; and non-alcoholic creations and fresh squeezed juices.
Since its debut on the Las Vegas Strip, GIADA has received rave reviews and was even awarded ?Best Italian Restaurant? by the readers of the Las Vegas Review-Journal, and continues to be one of the most sought after reservations in Las Vegas. GIADA?s menu embraces De Laurentiis? Roman heritage, mirroring her passion for Italian cooking with vibrant, Californian influences. GIADA utilizes the freshest ingredients to create a new take on the traditional Italian cuisine, while staying true to classic favorites. With its warm d?cor featuring De Laurentiis? personal style, the restaurant also boasts a priceless view of the Strip from the second story of The Cromwell.
GIADA brunch is served Saturdays and Sunday from 8 a.m. to 2:30 p.m. Weekday breakfast and lunch is served 8:00 a.m. to 2:30 p.m. and dinner nightly from 5 to 11 p.m.
Related Links: