Currently available through May 31, NOVE Italiano at Palms Casino Resort is providing a restricted-time seasonal menu, featuring delectable dishes inspired by Italy?s diverse cuisine. The enticing menu includes spring-inspired snacks, sauces, homemade pastas and introduces new signature dishes to the already impressive menu.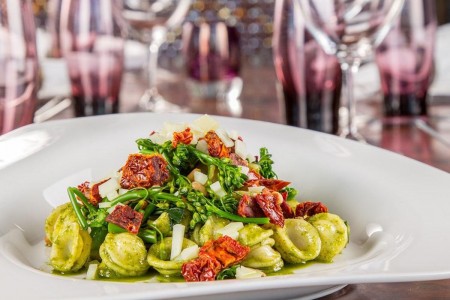 ?I love being able to incorporate seasonal ingredients in my cooking and add to NOVE Italiano?s ever- evolving menu,? Marlon Simbulan, Chef de Cuisine at NOVE Italiano. ?I?m thrilled with the results and am confident that our guests will enjoy NOVE?s exquisite new spring dishes.?
Seasonal menu items include:
Antipasti:
? Gnudi featuring Semolina ricotta dumplings with brown butter, crispy sage and nutmeg for $14
? Tuscan quinoa and saut?ed shrimp ?Tartaro? accompanied by crispy kale, arugula, fava, onions, roasted tomatoes and fresh mozzarella tossed in a spicy cream sauce and Sicilian lemon olive oil for $21
Zuppa and Insalate:
? Fava and cannellini two way soup made with fava puree, cannellini beans and goat cheese for $14
? Warm spinach salad tossed with pancetta, walnuts, grapes, orange segments, fennel, Parmesan and sherry vinaigrette for $16
Pasta:
? Pappardelle, mussels and seasonal mushrooms tossed with wide homemade flat pasta, lemon thyme foam and garlic mushroom olive oil for $38
? Oreccheitte al pesto (Bari) complete with ear shaped pasta, broccolini, sundried tomatoes, roasted pine nuts and pecorino for $28
Signature Dishes:
? Pan seared Alaskan cod (Sicily) panko crusted with a paprika basil pesto sauce, zucchini, carrots and fingerling chips with a tangy watercress salad for $38
? 32-ounce Bistecca alla Fiorentina (Firenze) for two including a sliced porterhouse, garlic parmesan spinach orzo and topped with a fried egg, Meyer lemon and caramelized garlic olive oil for $99
? Braised chicken (Liguria) accompanied by fingerling potatoes, fava, celery, onions, dried cranberries, pine nuts and prosciutto and goat cheese wrapped Sicilian figs for $32
Dessert:
? Gelato split with a decadent spread of strawberry cream, pear gorgonzola, milk chocolate gelato and velvet cake topped with crumbs and nuts for $12
NOVE Italiano is open Tuesday-Thursday from 5:30 ? 10 p.m. and Friday & Saturday from 5:30 ? 11 p.m.
Related Links: