In its golden anniversary year, Caesars Palace is continues to expand the empire with the addition of Montecristo Cigar Bar, likely to open March 2016. The cigar lounge will pair notable cigar choices with fine whiskeys, small bites and much more, inside a contemporary, organic 4,000 sq foot atmosphere, created by the award-winning architecture and style firm Rockwell Group, and performed by Bergman, Walls & Associates.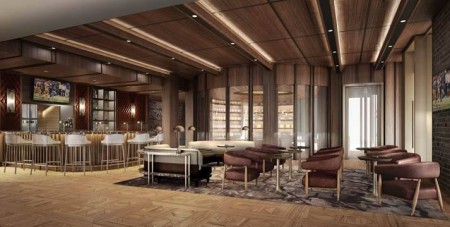 ?Caesars Palace is in the midst of a beverage and nightlife renaissance with the refurbishment of our iconic Lobby Bar and Sports Book bars, the addition of the cutting edge VISTA Cocktail Lounge, and of course we are home to OMNIA nightclub, arguably the most important club in the world. These new outlets pair perfectly with our incomparable lineup of stars, celebrity chef offerings and luxury amenities,? said Caesars Palace Regional President Gary Selesner. ?Montecristo Cigar Bar is a continuation of this renaissance, and will offer our guests the finest in cigars, whiskey and other fine beverages, while in a contemporary and inviting space featuring a walk-in humidor and cigar store, unlike anything else in the city. Our ambition is for Montecristo to be the best place in Las Vegas to smoke a cigar with a drink, while watching a stirring sporting event or, by special arrangement, as part of a gourmet meal from Old Homestead, Nobu or Restaurant Guy Savoy. We think this unique new offering is the perfect marriage of two world-famous brands, Caesars Palace and Montecristo.?
Cigar aficionados will appreciate the cigar shopping area and humidor, offering renowned brands like its namesake Montecristo, Romeo Y Julieta, H. Upmann, Padron, La Flor Dominicana, Arturo Fuente, Ashton, San Cristobal, La Aroma de Cuba, Mi Amor, Las Antilles and My Father, as well as a variety of others. The retail store and humidor consist of two intersecting circles with custom curved glass walls and shelving. Within the retail store, floating wood and glass jewel cases create a stylish display for the cigars. Top-of-the-line add-ons will also be available to buy, including S.T. Dupont. The spacious 400 sq foot humidor can store as many as 1,000 cigars inside a climate controlled atmosphere, among the biggest within the city. The transparent walls aesthetically connect the store and humidor with the bar/lounge, highlighting the connection between the three areas.
?The sheer size, elegance and commitment to customer satisfaction will make Montecristo Cigar Bar unique in the Las Vegas landscape,? said partner Michael Frey. ?It will be a true sanctuary for cigar lovers to enjoy a great cigar and libation.?
Meant to reflect and compliment the fine choice of cigars, Montecristo Cigar Bar offers visitors sensible and classic drinks, in addition to rare, highly-coveted spirits. For connoisseurs, the Captain?s List will intrigue and delight. Highlights include Pappy Van Winkle vintages, 18 year-old Elijah Craig Single Barrel, Thomas H Handy Sazerac ?Antique Collection? and more. The Louis XII Perfect Pour will be offered tableside, served in crystal Riedel glassware. Cigar pairings and suggestions will also be a feature, taking out the guess work to provide guests a sensational combination.
Throughout the entire Montecristo Cigar Bar space is a state-of-the-art ventilation system, making certain visitors have a comfortable and fresh visit. The 100-seat bar/lounge and gaming area offers visitors four distinct encounters to savor a smooth cigar and libation– the signature bar, the library, the courtyard and also the vault room. The centerpiece of the bar/lounge is a round bar volume featuring bar-top gaming and plush seating upholstered in light and dark neutral hues. Wood paneling on the walls and ceiling add warmth to the space. The library?s neutral material palette is both industrial and luxe, and provides the area a residential feel. An extra-large video wall comprised of nine television screens brings sporting occasions to existence, which makes it a top-notch place to watch big games.
The courtyard space envelopes the rear part of Montecristo. Lush eco-friendly elements of design, a number of seating groupings and skylight feature create an atmosphere that blurs the line between inside and out. The ten-seat vault is easily the most intimate area in Montecristo, and will also be highly coveted for groups searching to obtain their own space to savor the view.
?We are excited to be working once again with Caesars Palace,? said Shawn Sullivan, Partner, Rockwell Group. ?We conceived Montecristo Cigar Bar as a modern and luxurious loft space with outdoor elements influenced by tobacco farms.?
Montecristo Cigar Bar will also serve guests a selection of dishes to compliment the space and its offerings, to include: a selection of domestic and imported cheeses, charcuterie, spicy pork rinds and house-made vegetable chips. Lavazza coffee will also be available, including tableside French pressed coffee.
Montecristo Cigar Bar will be located adjacent to Old Homestead, across from Nobu Restaurant and Lounge.
Related Links: