As Rascal Flatts geared up for its second residency ? Rascal Flatts Rhythm & Roots ? at The Joint, Hard Rock Hotel & Casino welcomed the multi-platinum selling trio back to Las Vegas with a memorabilia case dedication on Tuesday, February 16.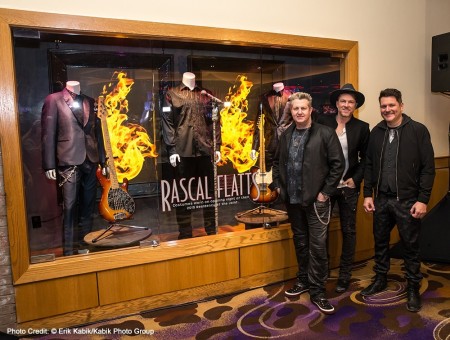 The event kicked off with Chas Smith, vice president of entertainment at Hard Rock Hotel, introducing Rascal Flatts members Gary LeVox, Joe Don Rooney and Jay DeMarcus to a crowd of fans, thanking everyone for attending and talking about why the property and AEG Live decided to bring the Rascal Flatts back for a second residency.
?We are really excited to have one of the greatest bands ever come through our venue again,? said Smith. ?Last year, we did a very successful run with these guys, and when we got a chance to actually talk about bringing them back to do another residency with us, they were excited, we were excited and now we are actually making it happen.?
Smith then led a ?3-2-1? countdown as Rascal Flatts pulled the black curtain off the wall to unveil the memorabilia display. The crowd erupted in cheers as the guys stood back, took a look at the case for the first time and explained each item.
The memorabilia display features outfits from opening night of the group?s first residency at The Joint including LeVox?s custom-made Diesel shirt, Robin?s Jean pants and a vintage wallet chain; Rooney?s Dsquared2 jacket, John Richmond shirt and Kooples pants; and DeMarcus? Vivienne Westwood suit, John Richmond shirt and Chrome Hearts wallet chain. It also showcases one of LeVox?s microphones that has been all around the world with Rascal Flatts, Rooney?s guitar that he used on tour in the early 2000s and a bass guitar that DeMarcus recorded the band?s first four albums with.
Before the event wrapped up, DeMarcus gave some insight into what?s in store for the band?s second residency. ?We?ve put together a show that is tailored specifically for this venue. It?s going to focus more on the three of us this year and our music and how we got to where we are. We are going to take you on a nice little musical history journey ride with us. We?ve got some surprises that we don?t want to give away but we?re going to pay homage to some of our heroes and some of the people who have influenced us over the years.?
The Rascal Flatts Rhythm & Roots nine-show residency with special guest Barrett Baber takes places at The Joint from Wednesday, Feb. 17 to Saturday, March 5.
Related Links:

Rascal Flatts Las Vegas