MGM Resorts International will celebrate Chinese New Year 2016, the Year of the Monkey, with a line-up of dynamic entertainment, genuine cuisine and vibrant displays.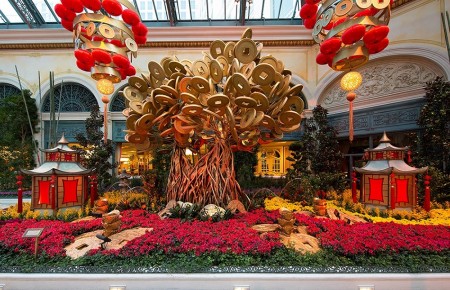 As outlined by Chinese culture, the monkey occupies the ninth position within the Chinese Zodiac and is known for being playful, curious and intelligent. People born in the Year of the Monkey have a tendency to be intellectual, creative and love a good challenge.
Dragon & Lion Dances
Dynamic and colorful dragon and lion dances commemorate the Year of the Monkey at Bellagio, ARIA and MGM Grand:
? ARIA ? Monday, Feb. 8 at 3 p.m. at the main porte cochere
? MGM Grand ? Tuesday, Feb. 9 at 3 p.m. inside the main lobby
? Bellagio ? Wednesday, Feb. 10 at 6:30 p.m. at the main porte cochere
Yau Kung Moon will perform the Chinese dragon and lion dances in a traditional Southern Shaolin Kung Fu system, a collection of martial arts with more than 1,000 years of history. Yau Kung Moon, which translates to ?Style of Flexible Power,? is one of the world?s most respected martial arts, dragon and lion dance organizations. Known for its trademark gold uniforms and innovative routines, Yau Kung Moon has been recognized internationally for being the first U.S. team to compete in the 1990 Invitational World Lion Dance Festival in Malaysia.
Bellagio?s Conservatory & Botanical Gardens
Bellagio?s Conservatory & Botanical Gardens celebrates the Year of the Monkey with a spirited display through March 12. The display?s vibrant centerpiece features a garden representative of monkeys and their natural habitat. A family of 12 Macaque monkeys can be seen atop a 14-foot mountain working together and using their intelligence and creativity to reach the peaches descending from the sky. Monkeys can be found in the pond and on the mountain gathering the fallen peaches as the water cascades down a picturesque waterfall. Four traditional ding pots adorn the four corners of the West Garden.
At the Conservatory?s entrance, six colorful Chinese children topiaries play on each side of the moon gate bridge above a peaceful pond filled with Koi fish. The children are each made up of 5,000 flower stems including red, purple and yellow carnations and green and yellow spider mums. Custom lantern chandeliers illuminate the display overhead with beautiful flowers below.
The North Garden features a stunning 18-foot tall Chinese money tree made of 384 sparkling gold coins, weighing a total of 3,000 pounds. The base of the tree is surrounded by four-foot-tall Ingot fountains and I-Ching coins. Surging water from the fountains descends on the money tree to keep it strong and vibrant.
The South Garden features a 12-foot lantern at its center accompanied by two illuminated, wooden lanterns and at the base of each lantern are stunning I-Ching coins and Ingot fountains.
The lush and colorful display in the Conservatory flows into Bellagio?s lobby with a dazzling mirrored horse from the Tang Dynasty and a vibrant display of flowers and Chinese accents behind the front desk to welcome guests upon arrival.
The Conservatory is complimentary and open to the public 24 hours a day, seven days a week.
ARIA
Beginning Thursday, Feb. 4, ARIA?s main lobby will delight visitors with celebratory d?cor in honor of the Year of the Monkey. Upon entrance to the lobby, guests will be greeted by a 229-foot dragon weaving its way through clusters of Chinese lanterns and around the money tree made up of 88 golden coins. This spectacle also will be seen during the dragon and lion dance February 8.
Three Chinese Deities: Fuk, Luk and Sau, each about five feet tall, will greet guests upon check-in while standing on a platform behind ARIA?s front desk. The deities personify the important aspirations of mankind: happiness, wealth and longevity. Throughout the resort, guests also will encounter eight lions resembling attire worn during traditional lion dances.
The Shops at Crystals
The Flower Carpet on the first floor of The Shops at Crystals features a 12-foot-tall, illuminated and golden-coated monkey situated atop a bed of gold coins while holding a peach. The West Carpet features a Buddha sculpture surrounded by 50 citrus trees and 500 orchids. A total of 1,000 bromeliads, red and yellow mums and birds nest ferns were used throughout the two gardens at The Shops at Crystals.
Culinary Specialties
Honoring the Year of the Monkey, select MGM Resorts International restaurants will feature specialty menus and authentic cuisine from the Far East.
ARIA
? Blossom will welcome guests for lunch with a special Cantonese Dim Sum menu, February 5-12, 11:30 a.m. ? 2:30 p.m., featuring signature dishes such as Steamed BBQ Pork Bun and Bird?s Nest Egg Custard. The restaurant also will be open for dinner 5:30 p.m. ? 10:30 p.m. offering its regular menu items, including Steamed Stuffed Shrimp Moss on Tofu and Crisp-fried Chilean Sea Bass.
? ARIA Mixologist Craig Schoettler, will feature the popular Chinese spirit, Baijiu, for the holiday. Baijiu, a distilled spirit from Sorghum with a rich, potent floral aroma, is a traditional beverage dating back a thousand years with rich roots in culture and celebration. Kweichow Moutai, the most popular spirit in China, is a brand of Baijiu that has been fermented for 40 days, distilled seven times and blended with 200 different base spirits from Moutai in the Guizhou province, giving it a unique and distinct flavor profile. Varieties of the spirit will be available by the shot and bottle as well as featured in specialty cocktails at Blossom and the Baccarat Lounge.
Bellagio
? Jasmine will offer a Chinese New Year a la carte menu in place of its regular dinner menu February 7-14 available 5:30 p.m. ? 10 p.m. and a special holiday Dim Sum menu February 5-14 available 11 a.m. ? 2:30 p.m. The menu will feature Steamed Golden Oyster and Sea Moss, Braised Beef Brisket with Five Spice and Daikon and Breaded Stuffed Crab Claw with Shrimp Pasta.
MGM Grand
? The Grand Wok and Sushi Bar will offer a special menu, February 6-13, featuring Pan Fried Filet Mignon, Braised Sea Bass and Sesame Mochi with Bean Powder. The celebratory menu will be available February 6-7 & 12-13, 11 a.m. ? 2 a.m., February 8, 11 a.m. ? midnight and February 9-11, 11 a.m. ? 10 p.m.
The Mirage
? Fin will add Crisp Fried Chilean Sea Bass to its regular menu for $42 as a special treat for the holiday.
Related Links:
Book Now: MGM Grand Hotel and Casino
Book Today: Bellagio Resort and Casino
Book Today: Aria Resort and Casino
Book Now: Mirage Hotel & Casino
Fin Chinese Restaurant
Grand Wok and Sushi Bar Asian Restaurant
Jasmine Chinese Restaurant
Blossom Chinese Restaurant