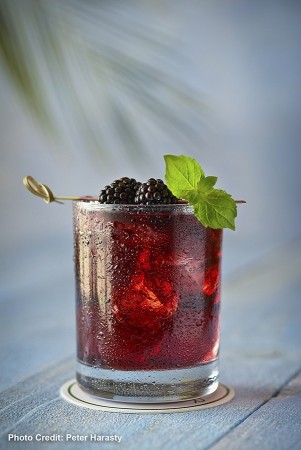 RHUMBAR inside the Mirage Hotel & Casino is stirring up its cocktail menu with the debut of three new additions, which reflect its relaxed Caribbean atmosphere.
Patio revelers can stay cool, both figuratively and literally, with the new Cucumber Cooler, listed at $14. A tall, dewy glass of Hendrick?s gin, G?n?pi, fresh grapefruit juice, fresh lime juice and simple syrup, garnished with a mint sprig and slices of cucumber.
The Scottish Sour brings the Scottish Highlands to the Vegas Strip by means of a conventional whisky cocktail. Listed at $14, the cocktail combines Chivas Regal whisky, Angostura bitters, freshly squeezed lemon juice and simple syrup, garnished with a lemon wedge.
RHUMBAR brings the vibes of Jamaica to the U.S. with the Kingston Smash, also listed at $14. That drink is really a royal red combination of Jamaican-made Denizen Merchant Reserve rum, fresh blackberries, lemon wedges, simple syrup and mint.
Related Links