Corporate Executive Chef Billy DeMarco at CRUSH inside MGM Grand Hotel & Casino features a range of new menu choices prior to fall.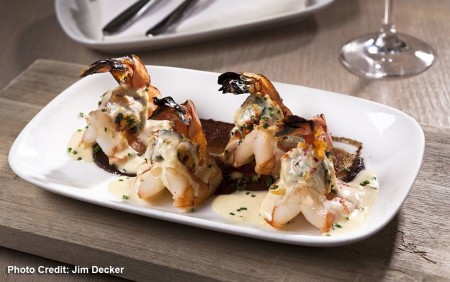 The autumn menu offers a number of new shared plates additionally to faves including, Chilled Ahi Tuna created using bacon marmalade, garlic chips and micro celery, listed at $16; Crispy Calamari & Rock Shrimp offered with garlic aioli and marinara dipping sauce, for $16; Shrimp Rockefeller created using spinach, bacon and b?arnaise, listed at $16; and, Charred New York Sirloin offered with crispy fig potato rosti and smoked caviar, listed at $20.
To accompany the brand new dishes, CRUSH debuts a brand new roster of fall-inspired cocktails. The hands-crafted drinks include: CRUSHcar created using R?my Martin VSOP, Pierre Ferrand Dry Curaco, freshly squeezed lemon juice and garnished with a sugar rim and lemon twist and Barrel of Monkey's created using Monkey's Shoulder Single Malt Scotch Whisky, Giffard Banane du Br?sil, Lustau Pedro Ximenez "San Emilio" Sherry, simple syrup, bitters and garnished with an orange. Each cocktail is listed at $14.
Related Links:
Book Now: MGM Grand Hotel and Casino
Crush Continental Restaurant