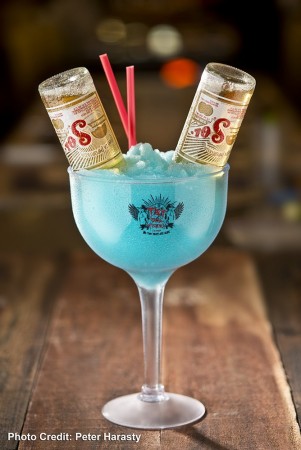 Tacos & Tequila (T&T) at Luxor Hotel and Casino will toast the unofficial finish of summer time with Labor Day weekend special offers from Friday, Sept. 4 to Monday, Sept. 7.
Featured food special offers includes the Alambre Fajita Skillet, created using steak or chicken, grilled onions and poblano peppers, capped with melted Oaxaca cheese and crispy bacon and offered with rice and beans, listed at $21. Labor Day libations includes T&T's signature Chonga, a huge frozen daiquiri offered with two upside-down 7-ounce Sol beers flowing into the drink, listed at $25 and also the Watermelon Cooler, a refreshing mixture of Cazadores Reposado Tequila, fresh watermelon, Aperol and watermelon liqueur, listed at $12.
T&T's happy hour will also be extended with the weekend with choices including Dos Equis ales and Jose Cuervo shots, each listed at $5; frozen Cuervo margaritas, strawberry Cruzan daiquiris, listed at $6 and habanero chicken wings and chicken quesadillas, each listed at $7.
Related Links:
Book Now and Save: Luxor Hotel and Casino
Tacos & Tequila (T&T)