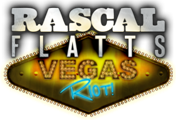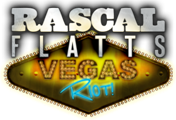 This month, Rascal Flatts will make history as the first country group to take up a residency in Las Vegas. The band will perform nine shows, deemed Rascal Flatts Vegas Riot!, at The Joint inside Hard Rock Hotel & Casino from Wednesday, February 25 to Saturday, March 14. As the trio celebrates its 15-year anniversary with 15 No. 1 singles, here are 15 reasons (in no particular order) why locals and visitors alike should stay on property and see a Rascal Flatts show:
1. Because… it's Rascal Flatts.
? Rascal Flatts remains the most-awarded country music group of the past decade with eight consecutive studio albums debuting at No. 1. Since its musical debut in 2000, the group has sold more than 22.8 million albums, 29 million digital downloads and has earned more than 40 trophies from the American Country Awards, Academy of Country Music Awards, American Music Awards, Country Music Association Awards, People's Choice Awards and more. In 2012, the band reached a new milestone with more than 7 million concert tickets sold.
2. First country band to have a residency in Las Vegas.
? Rascal Flatts is not only the first country band to take up a residency at The Joint, but it is the first country band to take up a residency in Las Vegas.
3. Opening with Craig Wayne Boyd.
? Kicking off the show each night will be season seven winner of NBC's "The Voice" Craig Wayne Boyd. The future country superstar already has a No.1 single, "My Baby's Got a Smile on Her Face," under his belt just two months after his big win.
4. Country nightlife.
? Throughout the Rascal Flatts Vegas Riot! residency, Dee Jay Silver will perform a mix of Top 40 hits with light infusions of country at Body English Nightclub. Silver has been a top-touring DJ for more than 10 years and has traveled with many legendary country artists including Brad Paisley, Jason Aldean and Luke Bryan.
5. Place a bet on "Fast Cars and Freedom."
? While on property, head over to the Race & Sports Book powered by CG Technology to place a bet on NASCAR. Rascal Flatts will be singing the national anthem and Boyd will be performing during the pre-race festivities at the Kobalt 400 NASCAR Sprint Cup Series race at Las Vegas Motor Speedway on Sunday, March 8.
6. There's no bad seat in the house.
? The Joint is an unparalleled entertainment destination that features a state-of-the-art sound system, superior video projections and tailor-made production packages. The venue will offer Rascal Flatts fans the best of both worlds with general admission pit access and reserved seating maxed at a 3,200 capacity to create a more intimate show for concertgoers.
7. Two shows for the price of one.
? As Rascal Flatts wraps up, music fans can head straight to Vinyl for a free show with Elvis Monroe. The band, comprised of members from Lifehouse, Matchbox Twenty and Emerson Drive, is known for its eclectic mix of alternative country, classic Americana and modern flavor. The group will perform at Vinyl at 10:30 p.m. on Wednesday, February 25; Wednesday, March 4; Friday, March 6; and Saturday, March 7.
8. Rascal Flatts-themed menus.
? Hard Rock Hotel's restaurants are revamping its menus with Rascal Flatts-themed food and beverage specials, available throughout the residency. Images can be downloaded here. A sample of items include:
o 35 Steaks + Martinis' "My Wish" Surf & Turf ($58), an 8-ounce Black Angus Filet Mignon and U-4 Tiger Prawn drizzled with garlic butter;
o Culinary Dropout's "Come Wake Me Up" cocktail ($10), a mixture of Stolichnaya Premium Vodka, muddled strawberries, fresh-squeezed lemon juice and Shock Top Belgian White Wheat Ale;
o Fuel Caf? and Fuel Caf? Express' "Sunrise" Coffee Cake ($4.25);
o Mr. Lucky's "I Won't Let Go" Country Farm Burger ($14), served on Texas Toast with pork sausage patties, a fried egg, American cheese, country gravy and tater tots on the side;
o Pink Taco's "Take Me There" Quesadilla ($12), macaroni and cheese and carnitas melted in a quesadilla and served with chipotle BBQ sauce and salsa verde on the side; and more.
9. Join the "Riot" with a Rascal Flatts-themed cocktail at all casino bars.
? Get in the action and enjoy a Rascal Flatts-themed cocktail available at all of Hard Rock Hotel's casino bars throughout the residency. Sip on "Broken Road" ($8), a libation made with Jack Daniel's Tennessee Honey, triple sec, sour mix and Sprite; "Prayin' for Daylight" ($8), a mixture of Herradura Blanco, pineapple juice, cranberry juice and Sprite; or "Life is a Highway" ($8), Woodford Reserve, pear puree, two dash bitters and ginger beer served over ice.
10. Unbeatable room and show packages.
? Concertgoers can take advantage of Hard Rock Hotel's exclusive room and show packages starting at just $200. The all-encompassing bundle includes two tickets to a Rascal Flatts Vegas Riot! show at The Joint and a one-night stay on property the same evening. Guests can book online or by phone using the code TRAFLGC for a gold circle package, TRAFLFB for a front balcony package or TRAFLGA for a general admission package.
11. Best rate guarantee.
? Those who opt for a longer stay and find a lower published rate within 24 hours of booking online will be honored the same price for a room upgrade at Hard Rock Hotel.
12. Suite life.
? Bowling alleys, plunge pools, secret vaults with provocative trappings, iridescent-tiled hot tubs and amazing views of the Strip are just some of the key characteristics offered inside Hard Rock Hotel's suites. Choose from Paradise Penthouse, Provocateur Suite, Altered States Ultra Lounge, Penthouse Real World Suite and more to live and party like a true rock star in Las Vegas.
13. Get pampered at the spa.
? Reliquary Water Sanctuary, Spa & Salon is offering guests pre- and post-show Rascal Flatts-themed treatments. Whether it's "I Melt" ($135), a body scrub, Vichy shower and body moisturizer application, or "Take Me There" ($205), a Swedish massage with a hydrating facial, patrons will leave feeling relaxed, refreshed and ready for a night full of entertainment.
14. $4 million worth of memorabilia.
? Perfect for music or history fanatics, Hard Rock Hotel showcases more than $4 million worth of rare memorabilia around the property. Guests can see clothing, instruments and collectibles displayed in carefully hand-crafted cases from some of the biggest musical icons such as The Beatles, Michael Jackson, Elton John, Guns N' Roses, CeeLo Green, Imagine Dragons and many more.
15. Get a Backstage Pass.
? Earn rockin' rewards for every dollar spent on and off the casino floor. Based on the tier, certain Backstage Pass Rewards Club Members will receive priority entry at property hotspots such as The Joint, Body English Nightclub and all restaurants.