Celebrated chef, restaurateur, New York Times best-selling author and Emmy award-winning television personality, Bobby Flay was at Vegas a week ago to celebrate the ten year anniversary of Mesa Grill at Caesars Palace.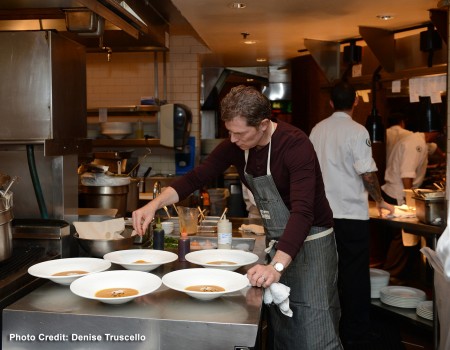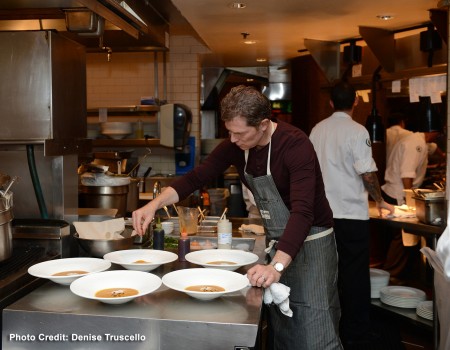 To kick-off his visit, Flay visited Three Square Food Bank on Tuesday, March 14 with several Mesa Grill staff people. Mesa Grill is a major supporter of Three Square, volunteering staff time regularly and continuously championing Restaurant Week. The tour was brought by Three Square Board Member, Diana Bennett, and Chief Development Officer, Matthew Muldoon. The tour came to the conclusion with the presentation of the top gold Plate Donor award for the most covers sold throughout the last Fall Restaurant week, an award Mesa Grill has won every year.
That evening, Flay hosted an anniversary dinner for invited visitors at Mesa Grill. Visitors dined on the anniversary four-course menu, that is available until Tuesday, March 21. Throughout the dinner, Flay reflected on Mesa Grill's 10 years at Caesars Palace and the favorite moments through the years.
Flay ended his visit on the high note because he and also the Mesa Grill staff celebrated by having an anniversary cake on Wednesday, March 15.
Opening to positive results in 2004, Mesa Grill has since been a culinary destination within the legendary Vegas casino. Having been at the beginning of the Strip's culinary evolution, Flay continues to be integral in getting bold, new tastes and fresh elements to one of the world's top tourist locations.
Mesa Grill at Caesars Palace is open daily Monday to Friday for lunch 11 a.m. to 2:30 p.m., Saturday or Sunday brunch from 10:30 a.m. to 3:00 p.m., and dinner nightly from 5 p.m. to 11 p.m.
Related Links:
Book Now and Save: Caesars Palace Hotel
Mesa Grill Southwestern Restaurant