With a focus on quality and an array of chef inspired masterpieces, Harrah's newly opened Fulton Street Food Hall's choices vary from delicious bakery-fresh pastries, to home-cooked soups and comfort foods, to artisanal sandwiches with eight bread choices, to fresh sushi and ten options of Pan-Asian noodle dishes and soups in addition to New York-style pizza.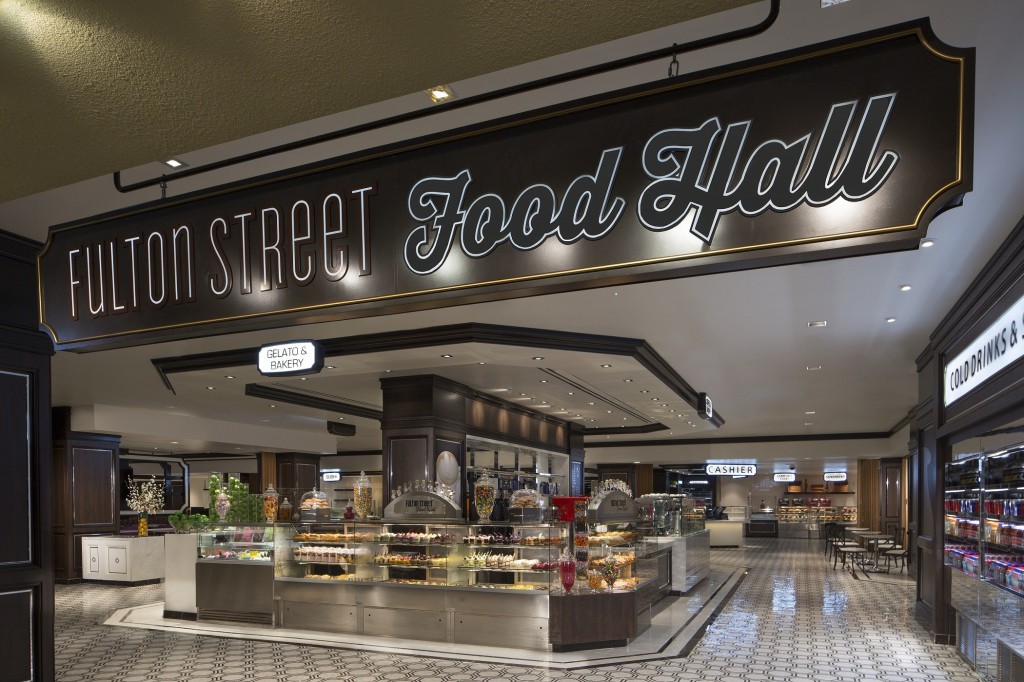 "Fulton Street Food Hall is the first food hall concept on the Las Vegas Strip, so we?re very excited to present guests with new chef driven, chef inspired food," stated Harrah's Las Vegas General Manager, Gerry Tuthill. Open 24/7, visitors are now able to experience fresh, quality food at any time of the day or night. While innovative cuisine with fresh, locally sourced ingredients is among the essential building blocks of Fulton Street Food Hall, variety is every bit as important.
Breakfast
Serving as a central dining hub for visitors, Fulton Street Food Hall provides a number of fresh choices. For visitors wanting a traditional sit-down breakfast with table service, a specified portion of the cafe is open from 6 a.m. to 11 a.m. daily. Menu choices range from the decadent White Chocolate and Raspberry Swirl French Toast capped with blueberry basil syrup to the the Scottish Smoked Salmon Eggs Benedict with perfectly poached eggs and hollandaise sauce. The Skinny Frittata created using egg whites and capped with tomato, grilled zucchini, yellow squash, mushrooms, onions and feta cheese and garnished a side of tomato, feta and basil Salad is among the options available to the health concious food connoisseur. Whether visitors are searching for something indulgent and satisfying or something that is waistline-friendly, all of the ingredients used in the dishes are locally sourced and cooked in house daily.
Coffee Bakery
For visitors who need something quick to go, Fulton Street Food Hall is ideal. Open 24 hrs a day, the Coffee and Bakery station offers 25 different Lavazza Coffee drinks, with four specialty options, such as the Mokaccino. Guests will enjoy a huge selection of 37 different bakery products that are available to go at any time of day along with coffee. Consider a classic cinnamon roll or purchase something more decadent, like tiramisu. All products are created fresh in house daily. The bakery station includes a gelato area with six different flavors as well as seasonal flavors, like watermelon.
Sandwiches Comfort Food
Fulton Street Food Hall offers a number of different sandwiches, ideal for a fast lunch. The sandwich breads are baked fresh daily in-house, and visitors can decide between eight various kinds of bread, from the classic Sourdough to the tasty Jalapeno Cheddar Roll. The menu, in total offers 13 sandwiches and 4 breakfast sandwiches, offered either cold or hot. The sandwich options include more than the standard poultry and cheese, offering tasty condiments like orange ginger root aioli. An array of sandwiches are also offered at the bakery station during off hours. Additionally, the comfort food station offers a number of rotating selections every bit as good as mom makes. Ideal for a winter's day lunch, choices include a 3 cheese lasagna, hearty meat lasagna and tasty meatloaf.
Salad Soup
The salad station includes a colorful display of fresh veggies for visitors to select from while offering a real salad bar experience. All of the salads are made to order with visitors selecting every item iadde to their dish, including lettuce, toppings and dressing. Visitors will appreciate the plastic to-go container the salads are prepared in, but they may also be eaten in the seating area. Soups are offered daily and are all cooked in-house using the perfect mixture of seasonings.
Sushi
Fulton Street Food Hall at Harrah's Las Vegas offers visitors some fantastic touches, such as a sushi bar with made-to-order sushi. Fish selections include tuna, eel, crab, shrimp, salmon, yellowtail and octopus. Traditional cut rolls, nigiri and sashimi are available at the sushi station. Visitors can dine in the sushi bar while watching the experienced sushi chefs create their meal or take pre-made sushi to go.
Noodle Bar
Next to the sushi station, the noodle bar offers a number of Pan-Asian noodle dishes and soups. Roast Duck noodle soup and Singapore Style noodles are among the specialties on the menu. Visitors can select from five kinds of wok tossed noodles and noodle soups. Five kinds of Ramen are also available, as well as three kinds of fried rice. The noodle station features its own dedicated seating, like the sushi bar, but visitors can also place their noodle masterpiece orders to go.
Pizza
The pizza station is among two live-action stations within the food hall. Visitors can decide between seven different kinds of 11-inch New York-style pizzas, including several vegetarian options. Every aspect of the pizza are created in-house, including a proprietary recipe for the dough, a distinctive cheese blend and scrumptious sauces. Guests can watch as their pizza is customized and baked within the pizza oven behind the station.
Bar
Fulton Street Food Hall is also a great place to go for anyone looking to savor a cocktail or two before an evening on the Strip. The signature drink menu includes options such as the Cucumber Cup created using Hendrick's Gin, Robinsons Ginger Tom Ale, fresh mint and cucumber. The Bakon Mary is the best breakfast refreshment, made up of Bakon vodka, Bloody Mary mix, Guinness and capped with a strip of bacon.
Design
The sit down restaurant is merged seamlessly with the convenience of a to-go caf? at Fulton Street Food Hall at Harrah's. Similar to Fulton Street in New Orleans, which provides the food hall will get its name, d?cor features a gold and purple color scheme with ample seating for 250 visitors, including devoted bar seating. The venue includes 11 flat-screen televisions. Fulton Street Food Hall functions similar to a supermarket with visitors being able to select different items from each station and check out at a centrally located cashier station. Additionally, visitors who order in the bakery or sushi station will have the ability to pay directly at that station.
Fulton Street Food Hall joins Harrah's Las Vegas' exciting revitalization, including the completely refurbished multi-level swimming pool area, the all-new Signature Bar and updated casino floor.
Related Links:
Book Now and Save: Harrah's Las Vegas Hotel