On Tuesday, October 28th, Gordon Ramsay BurGR at Planet Hollywood Resort & Casino reached yet another impressive milestone as it commemorated its one millionth burger with a surprise champagne celebration hosted by Gordon Ramsay.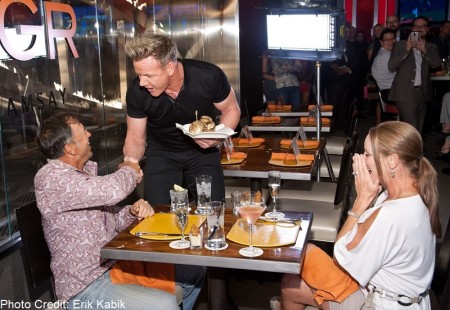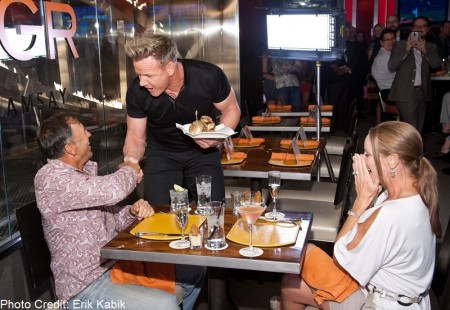 The lucky recipient, Dana Jeandron of New Orleans, was surprised with a very special celebratory gold burger comprised of fontina cheese, raclette cheese, goat cheese, truffle aioli, seared foie gras, roasted chanterelle mushrooms and shaved fresh white truffles, presented by Gordon Ramsay, Executive Chef and winner of season 10 of "Hell's Kitchen" Christina Wilson, and Regional President of Planet Hollywood Resort & Casino, David Hoenemeyer. As flutes of champagne were passed around to all guests, Ramsay led the restaurant in a toast to BurGR's continued success. All guests also received a souvenir Gordon Ramsay BurGR glass.
In addition to the celebration, the lucky guest also received an exclusive gift bag containing a two night stay at Planet Hollywood Resort & Casino, gift certificates to all three Gordon Ramsay restaurants in Las Vegas: Gordon Ramsay BurGR, Gordon Ramsay Pub & Grill at Caesars Palace and Gordon Ramsay Steak at Paris Las Vegas, a variety of Gordon Ramsay BurGR merchandise, as well as two tickets to the upcoming premiere culinary event of the year, Vegas Uncork'd by Bon Appetit's Grand Tasting, followed by a meet and greet with Chef Ramsay. The guest will also have the opportunity to tour and dine at Hell's Kitchen in Los Angeles.
Since its opening in December of 2012, BurGR has served more than 47,484 orders of Roasted Jalapeno Poppers, 228,226 Hell's Kitchen Burgers, 108,128 Pudding Shakes and 446,980 sides of fries, an impressive feat in less than two years.
Related Links:
Book Now and Save: Planet Hollywood Resort & Casino
Caesars Palace
Paris Las Vegas